This is the third year our parish has sponsored a "backyard mission trip" – a week of service to your own community – for our high school teens. One of the most important goals of the week is to help teens discover their own gifts and talents and to discern where they could give an ongoing gift of self to the community. This particular year we wanted to make sure the teens could practice each of the Corporal Works of Mercy. There are many areas of poverty here in South Bend, and so many ministries doing the work of the Gospel; it wasn't hard to find opportunities for the teens to feed the hungry, assist at homeless shelters, and visit the sick, but to help bury the dead? That one was a little more challenging.
Someone at the parish suggested we might find a way to show love to families who had recently lost a baby through miscarriage or stillbirth, since they often feel forgotten and grieve so much in private. But what could a group of high school teens do that might be meaningful? A quick Pinterest search led us to the perfect project: the Blessing Ring.
[Tweet "How could teens meaningfully console families after a miscarriage? @MyYearofFaith found a way!"]
The Blessing Ring holds prayers, letters, scripture verses, holy cards, sympathy cards, photos, mementos – whatever you want to offer someone who needs to be shown care and reminded how deeply our Heavenly Father loves them. The beauty of the ring is that you can always add to it; this is especially helpful for keeping sympathy cards in one place, or having a place to write down thoughts and memories as they come.
If you are looking for a way – personally, as a family, as a small Christian Community, as part of a parish ministry – to assist in the work of burying the dead and accompanying those who grieve, the Blessing Ring is a great place to start.
We attached the Blessing Rings to gift bags that were filled with cookies and muffins and then delivered to the families.
Materials:
Binder ring (available at any office supply store)
Holy Cards
Cardstock
Scrapbook paper
Ribbon
Decorative pens or markers
Hole punch
Bible
Instructions:
Cut card stock or scrapbook paper into varying shapes and sizes
Copy meaningful Scripture verses, quotes or prayers on the papers
Write a personal prayers and notes of encouragement
Include blank pages for the family to make their own notes
Select Holy Cards of saints or prayers which might bring comfort to the family
Hole punch each paper/card
Attach to the binder ring
Decorate with ribbon
Copyright 2016 Megan Swaim
About the Author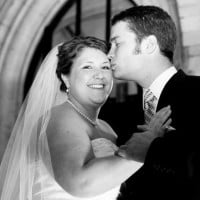 Megan Swaim is an Indiana girl on an east coast adventure. A former high school youth minister, she now gets to minister full-time to her three young daughters and her husband Josh. Megan spends her days homeschooling at the kitchen table, drinking iced coffee, and exploring coastal Virginia.