When I was a freshman at Marian College (now University), a friend roped me into going with her to a program called "Stations: on Location." I had no idea what it was, but freshman girls travel in packs, you know, so I climbed aboard a school bus with 50 of my peers and we were off.
That night we drove around Indianapolis praying the Stations of the Cross. It took all evening because we traveled to a new location for each station, piling out of the bus to pray for people and organizations in our community. At every stop, we pondered the connection between Jesus' cross and the crosses carried by our neighbors. We prayed for them and discussed how we could be like Simon the Cyrene and ease their burdens.
I remember that evening with such clarity because it was a life-changing prayer experience. It changed the way I saw my community, how I prayed for those in need and how I approached the Stations of the Cross. In the years since, I've hosted a "Stations: on Location" several times, whether with friends or other young adults from my parish. Now, as a high school youth minister, I take my teens on this unique prayer journey each Good Friday morning. It's something I look forward to every Lent.
It's simple and adaptable and can help anyone enter more deeply into the Lord's Passion, which is why I recommend it for Holy Week. (As a youth minister, I especially encourage families with teens or older children to try it together because it brings about really great conversations, and hopefully, action.)
I love it because it's flexible. You can take the basic idea and make it work for your circumstance, and you can modify it each year.
First, choose your favorite Stations of the Cross; it doesn't have to be oriented towards Catholic Social Teaching, just choose one that you like, that works for your family and that helps you pray. Then, think about places or ministries in your community that ease the burdens of the poor and vulnerable or correspond to individual stations. (See below for ideas of places you might stop for particular stations). Once you have an idea of where you want to stop, map out your journey. Sometimes it makes sense to pray two Stations at one stop, especially if two consecutive Stations are closely related (like Stations 1 and 2 or 13 and 14).
1st and 2nd Stations: Jesus is condemned and takes up His cross, Praying for those who are convicted and imprisoned, justly or unjustly – local courthouse, jail, youth detention center
3rd , 7th and 9th Stations: Jesus falls, Praying for those who feel overwhelmed, who feel the weight of their own sin or the sin of others, those who need the assistance of others to get back up: confessional, counseling center, addiction recovery center, halfway house
4th Station: Jesus meets His mother, Praying for mothers, especially those who suffer: pregnancy resource center, home for mothers in crisis, adoption agency
5th Station: Simon helps Jesus, Praying for those who help others carry their crosses: neighborhood community centers, counseling centers, employment agencies, refugee resettlement, Catholic Charities
6th Station: Veronica wipes the face of Jesus, Praying for those who take care of the physical needs of others - nursing home or rehabilitation center, home or resource center for persons with disabilities, agencies for children
8th Station: Jesus meets the women of Jerusalem, Praying for those who grieve – Grief counseling center, funeral home, hospice
10th Station: Jesus is stripped of His garments, Praying for those who are stripped of their dignity – homeless shelter, food pantry or soup kitchen, refugee resettlement agency
11th Station: Jesus is nailed to the cross, Praying for those who do not run from suffering, but risk for the sake of others – VA hospital, war memorial, police or fire station
12th Station: Jesus dies on the cross, Praying for those who are dying – hospital, hospice
13th and 14th Stations: Jesus is taken from the cross and laid in the tomb, Praying for the faithful departed – funeral home, cemetery, crypt, memorial
When the day arrives, pile into the car or van with your map, your Stations of the Cross and your prayer companions and start your journey. At each location, get out of your car to pray that Station, considering how that particular ministry or location is connected to Jesus' Passion and praying for those who serve or are served there.
You can make this prayer experience even more meaningful by carrying crosses during the journey, creating a playlist with songs that will help you reflect, stopping inside one or two locations to learn more about the work they do, bringing items to donate, or having questions to discuss while you're driving.
This year as we stop to pray for the 4th Station, I'll be holding all of you and your intentions in my heart!
What's your favorite way to pray the Stations of the Cross?
Copyright 2016 Megan Swaim
About the Author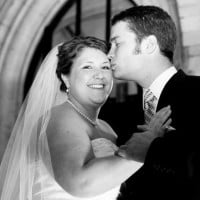 Megan Swaim is an Indiana girl on an east coast adventure. A former high school youth minister, she now gets to minister full-time to her three young daughters and her husband Josh. Megan spends her days homeschooling at the kitchen table, drinking iced coffee, and exploring coastal Virginia.