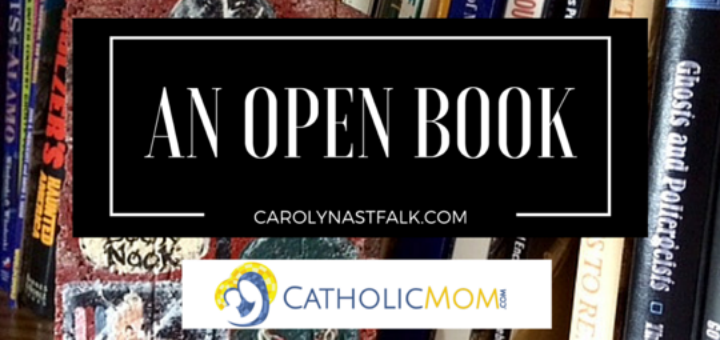 Welcome to the August 2016 edition of An Open Book, now hosted both at My Scribbler's Heart AND Catholicmom.com!
An Open Book is all about what my family is reading this month, from the adults down to the little kids. Share what you're reading by linking up your blog post below. Simply write about what you're reading. You can make it personal or, as I do, extend it to the whole family. Your post can be as simple as a few lines about the book or as in-depth as a 700-word review. That's entirely up to you. You can even forego writing all together and record a video or simply post cover photos.
[Tweet "Join #OpenBook linkup & share your current reads! Hosted by @CMAstfalk & @CatholicMomWeb"]
No blog? No problem. Please share what you're reading in the comments.
---

I was oblivious to the existence of Anne of Green Gables by L.M. Montgomery until fairly recently. After reading so many beloved remarks about the irrepressible Anne Shirley and learning of some other readers coming to meet Anne well into adulthood, I decided I should read it, too. I grabbed a Focus on the Family radio Radio Theater adaption from our library and listened to it with my children as we ran errands over a week or so. The thirteen-year-old reacted with a certain amount of cynicism, but he was also typically the first child to ask "Can we listen to Anne of Green Gables?" when we got into the minivan. He and my eight-year-old daughter enjoyed it most. I liked it as well, although I think it would've made a greater impression had I read it as a young girl. Anne's spirit and the simple, small-town tales are hard to resist.

Novellas are a mixed bag in my mind. Because of their length, they sometimes feel rushed, particularly where romance is concerned. When I find a well-written one, however, it's a sweet indulgence. I love zipping through a story in a matter of hours. I always enjoy Becky Wade's contemporary inspirational romances, so I know I'll enjoy Love in the Details. More than halfway in, I'm missing some of the smart banter and interplay I'm accustomed to in her Porter Family Series, but the writing is still good, and I'm withholding final judgment until the end. She's set her own bar so high in my estimation, she's made it hard to meet her own standard.

When we visited the Carnegie Science Center in Pittsburgh last month, my son discovered this book in the gift shop. Because his spending money for souvenirs was limited, he bought the book later from Amazon at a reduced price. I guess watching his dad brew beer has inspired him. So far he's brewed only a batch of ginger beer, which was fresh and delicious! I think some of the root beers and a lemon-lime soda caught his eye first, but, sweet kid that he is, he chose the ginger beer since he thought it might help relieve the severe sore throat I had at the time. Here's a review in his own words:
"Homemade Root Beer, Soda, and Pop by Stephen Cresswell is a great book for people just beginning to make their own soda. It includes many helpful tips and alternatives to certain equipment. It also gives helpful advice on the process of making the soda and gives tips about choosing your bottles. After you do the basic recipes (root beer and ginger ale) there are many other recipes you can try. If you are tired of the recipes in the book then read a chapter with guidelines and advice for making your own recipes. I recommend this book to anyone interested in making their own sodas; I think that most kids should be able to do it, although some may need adult supervision."

During a recent trip to Pittsburgh for a family funeral, my teenager read National Geographic Treasury of Norse Mythology by Donna Jo Napoli. This is something I know NOTHING of. It's a beautifully illustrated book, and he read through it quickly. His verdict: "Norse mythology is depressing." That didn't stop him from retelling various odd myths, including the Norse creation myth, to his younger siblings.

My eight-year-old is still working her way thought the collection of Narnia books and progressing in the Trixie Belden series with #2, The Red Trailer Mystery by Julie Campbell. The littlest kids have been enjoying the Humbug Witch by Lorna Balian. My crazy three-year-old plucked it from the library shelf despite the fact it's a Halloween book. Come to think of it, maybe that's why he's started asking about trick-or-treat and costumes. I'm not big on witches in general, but this little story of dress-up is cute and innocent enough.
---
[inlinkz_linkup id=651668 mode=1]
---
Want more details on An Open Book? You can also sign up for An Open Book reminder email, which goes out one week before the link-up.
Check out the archives of An Open Book!
Copyright 2016 Carolyn Astfalk
About the Author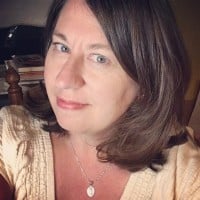 Carolyn Astfalk is a wife, mother of four young children, and a writer. Her contemporary Catholic romances are available at Amazon.com. She is a member of the Catholic Writers Guild, a Catholic Teen Books author, and blogs at My Scribbler's Heart. Visit CarolynAstfalk.com.