Those Protestants, man oh man do they know their Bible.
They are devoted to their time with God and are wonderful evangelizers.
They are strong in their convictions and definitely know how to rock out with Jesus.
I love my Protestant friends. They have challenged me and made me grow in my faith even more than my Catholic friends.
[Tweet "My Protestant friends have challenged me & made me grow in my faith."]
Not too long ago, one of those dear friends asked me to attend a non-denominational conference with her. We have been friends for years. She knows how devoted I am to the Catholic faith and I understand that her faith journey is as a Protestant. I knew she wasn't attempting to "save" me through this conference. She just wanted a buddy to go with.
So, I packed up my Bible and notebook and went with my friend.
I arrived with an open heart to what Jesus wanted to share with me. I also went along with a sharp mind, on guard and aware that much of the message that was about to be presented as "truth" was not the truth I knew to be Truth.
The conference started with praise and worship. It ignited my soul with a renewed excitement for God and all His wonder. My heart jumped up and down with joy.
Then, once the sessions began, we were told we'd be "in the Upper Room" for most of the weekend.
Here we go, I thought. Can't get any more Catholic than this. My soul quieted down.
I listened to the speakers and was grateful that the lessons they preached were the basics of Christianity. Loving your neighbor, contentment in the blessings God has given you and spending real time with Jesus.
Then, at the end of the night, the leader of the conference…
"It only feels right, having shared so much with each other and going so deeply into God's teachings, that we should confess and then share communion together."
Oh boy, this is gonna be awkward.
The lights were turned down and we were told to get out our phones.
I sat in amazement as the leader would speak common sins aloud and the attendees would light up their phones and lift them up in the air if she spoke of a sin they had committed.
This was their version of our Holy Sacrament of Reconciliation. My heart broke. It broke for what they had turned Jesus' teaching into. It broke for the new friends I had made around me. They had no idea what they were missing out on.
Then, communion.
The leader said that since we were all of different denominations, we would all have to "bend a little" because this way of communion was more than likely not going to be what we were all accustomed to at our home churches.
No kidding.
I sat and let people pass me by as soft music played in the background and women lined up to break off a piece of bread, probably from Panera. Then, they would take the piece of bread and dip it into the "wine."
We were told not to worry; "it's really just grape juice, not actually wine."
Watching this, I felt a stab in my heart.
Oh, Jesus, what they have done to your Holy Communion.
I fell out of my chair and onto my knees in prayer.
I prayed the women partaking in this would someday come to know His Holy Eucharist. And then came one of the deepest prayers of thanksgiving I have ever prayed.
I felt so lucky that on Sunday I would get to truly become one, to truly abide in Jesus, through the Holy Sacrament of the Holy, Holy Eucharist.
My reverence for the True Presence that was missing burned in my heart.
I don't know that I have ever been so desperately hungry for Communion, so desperately hungry for Mass.
I left the conference feeling like the luckiest girl in the room.
I was on fire with excitement for Catholicism and my relationship with Jesus.
I was ready to dive into theology book after theology book to get to know God's Church even more.
I was humbled to a quiet state by God.
I wanted nothing more but to kneel at the foot of my Lord, Jesus.
I wanted the Eucharist so bad.
I am grateful God lead me to that conference.
My Catholic flame was re-ignited.
These days, I just can't contain my love for our Church.
Catholicism feeds us both spiritually and physically. Because God knows our need as humans to connect through both.
He is so Good that He gave us His Church to challenge our different personality types so we can see that He is not only a God of excitement, of knowledge, of reverence, but He is a God of all.
And, through our Holy Catholic Church, He has blessed us with, not only all of the above, but with all of Him.
Thank you, Jesus, for making me a Catholic. And, please, God, help me show my children the beauty of our Church and all the wonders You offer through it. Amen.
Copyright 2016 Stephanie Stovall
About the Author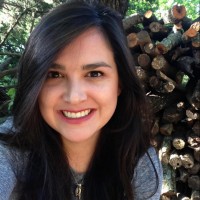 Stephanie Stovall loves Oklahoma State University and hanging out with her husband. She keeps Holy Mary busy praying for patience with her five little boys. Stephanie loves God, Catholicism and evangelizing with all her heart! You can find more of her messy thoughts over on TheBlessedFruit.com