Often times I get overwhelmed because in the mornings I pray to be a better, calmer parent and spouse and by 7:07, I'm already being short with everyone. I find myself trying to control every situation and especially my children's reactions to situations. I find myself thinking, if only they would follow my directions, I wouldn't lose my patience. It's like I expect perfection. I expect that when one of my children calls their sibling a baby face, that they'll handle their irritation by using their words and expressing their dislike for being called names. Now back in reality, I realize that I have young kids and that is nearly impossible, so I'll chalk it up as a goal to shoot for.
When I lose my patience, I think, "God why are you not making me more patient? Why aren't you fixing everything?" Then he reminds me, that "I am. I am fixing you and I am working on you but all this will take time. Rome wasn't built in a day."
In these moments I need to stop and look back at where I've come from. I started as a non-religious high school student, who on the first day of Catholic high school when the student body did the sign of the cross in unison, thought I had entered the Twilight Zone. I was convinced these kids were brainwashed and now, here I am teaching my own children how to do the Sign of the Cross.
So I'm living proof to myself at least, that he is working in me. I'm such a whiner, so he has to spoon-feed me and make me take baby steps of growth. But in those moments of reflection, I have a renewed sense of hope and encouragement that if I keep seeking Him and His wisdom and guidance, that he'll keep chiseling away at me, like an artist working on his masterpiece. He will take my stubborn rock attitude and make it into a beautiful work of art like the statue of The Thinker. With each chisel of the hammer, Auguste Rodin got closer to his vision of The Thinker. With every brush stroke, Van Gogh worked to create The Starry Night. Neither of the works of art started out as a masterpiece but rather a blank canvas and a large rock.
[Tweet "God reminds me that He is working on me + that I need to be patient + let Him take the time."]
I remain then, hopeful, that the author of life is working to create me into the masterpiece I was made to be, even if it will take my whole life!
Copyright 2016 Courtney Vallejo
About the Author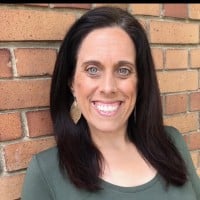 Courtney Vallejo is a convert to the Catholic faith, who lives in California. She and her husband homeschool their three adopted children. She is the cofounder of AMomRevolution.com, whose mission is to inspire, encourage, and reclaim joy in motherhood. She also writes for her own blog, CourtneyVallejo.com. Courtney holds a Master's degree in Film Production and a California Multiple Subject Teaching Credential. Follow her Gluten Free/Dairy Free adventures on Instagram: @aglutenfreerevolution.