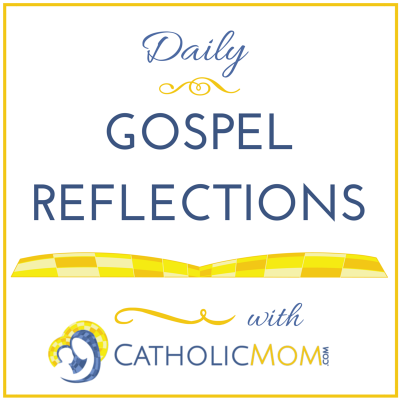 Today's Gospel: Matthew 24, 42-51
If you knew that Jesus was coming next Tuesday, what would you do differently? That is a loaded question, isn't it?
In today's reading, we are told that Jesus is coming, but we don't know when. Through this reading, Jesus teaches us that our behaviors (thoughts and deeds) matter while He is away. It is imperative that we understand the fact that how we choose to live our lives will be the difference between an eternity of torment and an eternity of peace and love.
I am reminded that we (us Catholic moms) teach our children to make good choices. We ask them to behave whether we are there or not… to do the right thing… to err on the side of humility and caring… to be courageous and kind. If we are teaching them to walk the right path, they do these things right because they want to please us.
Can you imagine then, how much more so than any parent, God wants to come back and find us doing the right things, living a faithfully good life, helping the least of our brethren and worshiping Him? I know that we all want to please Him.
Life is a test to see which of us is faithful or unfaithful. We are to live like Jesus could appear any moment. Be on guard. Keep watch! I am so very thankful that I have the opportunity to make daily changes and grow closer to Him.
Ponder:
If you knew that Jesus was coming next Tuesday, what would you do differently? Would you change the way you treat people? Would you volunteer more? Would you stop gossiping? What is on your list?
Pray:
Jesus, I do not know when you will come again. Please keep me focused on You!
Copyright 2016 Emily Davis
Emily Davis is Catholic convert, homeschooling mom, and 3rd Grade Religious Ed teacher. She lives in the Fort Worth area with her husband Marque and son Christopher. She left her career in event planning and executive administration to stay home with her son who has Aspergers. She writes about faith, life, finances, homeschooling and crafting.
About the Author