This past summer, more than 130 Catholic moms enjoyed spiritual fellowship on Facebook in the online book club for Divine Mercy for Moms. The group was such a terrific success that we decided to extend the fun. So I'm teaming with up with co-admins Amanda Torres and Aida Alaniz to delve into The Four Keys to Everlasting Love: How Your Catholic Marriage Can Bring You Joy for a Lifetime by CatholicMom marriage advice columnists Dr. Manny & Karee Santos. The discussions will begin on September 10 and end on December 3. We would love for you to jump on this opportunity to make your marriage and your faith stronger than ever!
The Four Keys to Everlasting Love is practical, easy to read, and full of personal stories to help you develop a stronger relationship with your spouse. As it says in the book's description on Amazon: "No marriage -- even a sacramental one -- is free from conflicts about sex, money, child-rearing, in-laws, and work/life balance. Marriage columnist Karee Santos and her husband, Manuel, a psychiatrist who has been counseling couples for more than fifteen years, explore how applying the wisdom of the Catholic faith to marriage can free us to experience deep, lasting, and soul-satisfying love."
Daily Memes
Author Karee Santos will be posting daily memes based on The Four Keys, including super-helpful action steps for your marriage, and moving quotes from the book as well as from Scripture, the Catechism, and Pope John Paul II. Here's one of my favorites!
Share your reactions on the daily Facebook thread, and be inspired to deeper love for your family and a more constant prayer life!

Weekly Discussions
We'll aim at reading one chapter per week. Every Saturday, the group administrators will moderate discussions based on the chapter of the week. On our start date of September 10 we'll begin by chatting about the introduction.
The Saturday discussions will be based on the "Conversation Starters" (discussion questions) at the end of each chapter. We co-admins will prime the conversational pump, telling you our answers and encouraging you to chime in with your own responses. You'll also be able to download free printable worksheets if you'd like to jot your answers down and share them with your hubby or with an in-person book club or prayer group.
The Facebook group is "closed," which means that members of the group are the only ones who can see the comments you write. So no worries about too-personal musings showing up in the newsfeeds of friends and relatives!
[Tweet "Strengthen your #marriage! Join the 4 Keys Online #BookClub with @KareeSantos + @Mercyformoms"]
How to Join the Fun
The Facebook group is called (simply enough) 4 Keys Online Book Club. Just click here and submit a request to join the group. Looking forward to great conversations and closer friendships with you this fall!
Order The Four Keys to Everlasting Love: How Your Catholic Marriage Can Bring You Joy for a Lifetime and support CatholicMom.com with your purchase.
Copyright 2016 Michele Faehnle
About the Author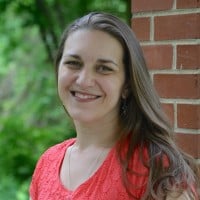 Michele Faehnle is a wife, mother of 4 and a school nurse. In her free time she enjoys volunteering for the church and is the co-chair of the Columbus Catholic Women's Conference. She is also the co-author of The Friendship Project, Divine Mercy For Moms, Our Friend Faustina and Pray Fully; Simple Steps to Becoming a Woman of Prayer. Read more of her work at InspireTheFaith.com.