We're always excited when one of our contributors publishes a book. Such is definitely the case with our own Marc Cardaronella's Keep Your Kids Catholic: Sharing Your Faith and Making It Stick. A committed "Catholic Dad", Marc's been sharing his writing and insights here at the site since 2012. It's been a true joy to witness him writing his first book and sharing truly practical and inspirational wisdom for families through this new platform. Today, I'm happy to share my conversation with Marc about the book and how we can all "keep our kids Catholic". Enjoy!
Q: Marc, thank you for many generous contributions to CatholicMom.com and congratulations on the publication of Keep Your Kids Catholic: Sharing Your Faith and Making It Stick. Please briefly introduce yourself and your family to our readers.
A: I'm married and have two boys, ages 14 and 12. I work as the Director of the Bishop Helmsing Institute for Faith Formation in the Diocese of Kansas City-St. Joseph, MO. It's a catechetical institute. We do catechist and Catholic school teacher training, as well as faith formation courses in parishes around the diocese. Before that I was a parish DRE in Champaign, IL.
Q: This book is so greatly needed! What motivated you to write the book and what will our readers discover in Keep Your Kids Catholic?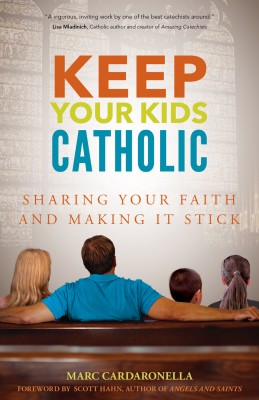 A: When I was a parish DRE, older couples would ask my advice about bringing their adult children back to the Catholic Faith. They was always such pain and regret in their voices. It created a desire in me to help parents with young children keep their kids Catholic so they wouldn't experience that pain. The book combines traditional Catholic spirituality with research from sociologists and psychologists, as well as methods for developing real, lasting faith that I perfected in my work as a DRE and RCIA program director.
Q: Sadly, teens and young adults seem to be leaving the Church in record numbers. Is it possible to do anything about this? What are a few simple steps a parent can take to prevent their children from stepping away from the faith?
A: There is something parents can do to prevent this. Here's the 3-step strategy I outline in the book:
Secure your own faith.
Studies have shown parents are the primary influencers in their children's lives. Positive or negative, your faith life will be an example for your kids. If you want your kids to stay Catholic, you have to model what a faithful, Catholic adult looks like. What's even more powerful is being a witness, communicating to them why the faith is important to you.
Educate to foster faith.
All Church teaching is important, but some aspects are more crucial for developing faith than others. My plan is to make faith formation a partnership with the Catholic school or parish religious education program by supplementing a few key elements at home that probably aren't taught in the formal programs, but will make a big impact on faith.
Make your home an environment of faith.
This is something only parents can do. Parish and school programs are a minuscule part of children's lives. If you positively influence the other 99% of their lives, you will determine their course. The physical environment of your home and your family culture plays a vital role in this.
Q: Young parents with little children may struggle to make the love of God a concrete concept their youngsters can understand and appreciate. Where do you recommend starting with the catechesis of young ones?
A: I recommend starting with the Bible. There's no better way to understand the depth and majesty of God's love than through the biblical narrative. You should start reading children's story Bibles to your kids at a very early age. Stories are more concrete and easier for kids to grasp. Introduce books with greater detail as they get older. Then gradually help them understand how all the stories integrate into one big story with Jesus at the center.
Many people have a hard time seeing God as loving in the Old Testament. But it's vital to understand the Old and New Testaments as a collection of interwoven stories that make up a grand narrative of God's love for humanity. That's how you introduce God to youngsters in a way they can appreciate.
Q: You rightly emphasize that we parents need to care for our own faith journeys. Please say a few words about how to make this possible given all of today's busy demands on our lives?
A: Our busy lives can be an obstacle to growth in faith. I struggle with this myself. With work, kids, spouse, school activities, chores, and exercise, there isn't much time left over. There's a popular notion that growing in holiness requires piling on multiple prayer forms and devotions. I've always found that too demanding. I think the old adage of quality over quantity prevails here. 15 minutes of really talking to God, telling him what's honestly going on inside, and listening for his inspirations can be powerful. Obviously, going to Mass, praying the rosary, and reading spiritual books daily are fantastic, proven ways to grow in the love of God. However, if you can't seem to work that into your schedule, it's better to make a small concentrated effort than no effort at all. Also, working devotions into your family life is a great way to multitask with huge benefits for your children.
Q: What did you learn in the writing of this book that you wish you could have done over in your own life or in the raising of your children?
A: While writing this book, a successful Catholic campus evangelist taught me about the power of verbally committing yourself to Christ. It sounds Protestant to verbally "accept Jesus," however it's thoroughly Catholic. Words have meaning. When you say out loud you want to have a relationship with Jesus and commit yourself to it, that's powerful psychologically. You decided and you said it. It's a concrete moment, a touchstone. In the book I talk about how to make these verbal commitments with your kids. I did this for the first time with my oldest son in preparation for his Confirmation. I wish I had known about it sooner, though.
Q: For parents of adult children who are away from the Church, is there any hope?
A: There is hope. I'm proof of that. I came back to the Church in my early 30's. The same 3 steps I mentioned above for preventing kids leaving applies to bringing kids back.
Beyond the obvious first answer of praying for your adult children's conversion, I think witness is the most important thing. Develop your own faith life and make it something compelling. Maintain a close relationship with your kids and talk about faith when the opportunity naturally presents itself.
Although sending Catholic books or videos might not be well received, I've also seen them work. If it's the right thing at the right time (and not overdone), it could break through. In the book I tell the story of how that happened to me.
Make your home an environment of faith so that when they visit, they're exposed to "holy reminders." It may get them thinking.
Q: What are some of your favorite resources for use in your Domestic Church?
A: We loved books on the lives of the Saints. The Book of Saints series by Fr. Lovasik and the Encounter the Saints series from Pauline Press were favorites. Children's Bibles are very important. The Beginner's Bible is great when they're very young. The New Catholic Picture Bible and New Catholic Children's Bile are good for older kids. My all-time favorite is The Jesus Storybook Bible. Also, anything that helps kids pray the rosary is fantastic--from videos to iPhone apps. My favorite is the iRosary app.
Q: How can readers learn more about your work?
A: You can learn more about the book at: www.keepyourkidscatholic.com. My book,Keep Your Kids Catholic: Sharing Your Faith and Making It Stick is available from Amazon and Ave Maria Press. I write about these topics, as well as ongoing thoughts and research on my blog at: http://MarcCardaronella.com.
Q: Are there any additional thoughts or comments you would like to share with our readers?
A: Don't be afraid of this. You don't need extensive knowledge of the Catholic Faith to make a significant impact on your children's faith lives. Your witness and example are more important and more powerful. That's what you bring to the table as a parent. You are the biggest influence in your children's lives. Sharing your faith with your kids will make a huge difference…a difference perhaps only you can make.
Learn more about Keep Your Kids Catholic: Sharing Your Faith and Making It Stick and order the book at Amazon to support CatholicMom.com with your purchase
Enjoy Marc Cardaronella's writing at CatholicMom.com
Copyright 2016 Lisa M. Hendey
About the Author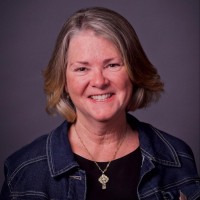 Lisa M. Hendey is the founder of CatholicMom.com, a bestselling author and an international speaker. A frequent radio and television guest, Hendey travels internationally giving workshops on faith, family, and communications. Visit Lisa at LisaHendey.com or on social media @LisaHendey for information on her speaking schedule or to invite her to visit your group, parish, school or organization. Visit Lisa's author page on Amazon.com.