Fall is my favorite season. Leaves changing color and falling, college football (especially here in Notre Dame, Indiana…Go Irish!) cool evenings, apples and pumpkins; these months are made of the very best.
A few years ago I was perusing Pinterest in search of inspiration. I wanted an easy recipe with the delicious flavors of fall. We were going to the pumpkin patch that night and I wanted to come home to a dinner that was fitting to our fall celebration. A crock-pot meal was a bonus because there's something satisfying about a dinner that's ready when you walk in the door, and that promises quick cleanup.
I picked this because I had all the ingredients already and it seemed pretty foolproof (which was important in my early days of cooking). We've adapted it over the years and made little changes based on our taste, but it's become one of our favorite go-to recipes. We eat it all year, but I think it tastes even better in the fall, and best when you've just come inside from the cool evening.
This meal is versatile, too. It's gluten free, the original recipe is dairy free, and you can adjust the spices to suit the tastes of your family.
I promise you will not be disappointed with the results! Add it to your list of fall recipes to try, after the pumpkin patch or trick-or-treating, or while watching a night game.
[Tweet "Autumn flavors come together in this slow-cooker chicken stew #recipe."]
Chicken, Sweet Potato and Apple Crockpot "Stew"
Adapted from StockPilingMoms.com
Prep Time: 15 minutes
Cook Time: 6-8 hours
Yields: 6-8 servings
Ingredients:
4 boneless skinless chicken brests, whole
2-3 large sweet potatoes (we give them a good scrub and leave the skin on)
½ onion (whatever variety have on hand), roughly chopped
2tsp garlic, minced
1 ½ c unsweetened applesauce
1 Tbsp curry powder
1 tsp ground cumin
1 tsp ground cinnamon
3 Tbsp butter
Salt+Pepper to taste
Directions
Rinse the chicken breasts and place them at the bottom of the crockpot
Cut the sweet potatoes into large chunks and place on top of chicken
Add chopped onion and minced garlic to the crockpot
In a small bowl or glass measuring cup, combine applesauce and spices, stir, and pour on top of sweet potatoes and onions, distributing evenly.
Cut butter into 6 pats and place evenly on top of applesauce mixture.
Set crockpot to low setting and leave for 6-8 hours, stirring once or twice toward the end of cooking time.
Tips and Tricks
To make dairy free, eliminate butter and add 1 Tbsp. apple cider vinegar
If you prefer a stew with more broth, add 1-2 cups low-sodium chicken stock
Can serve over basmati or jasmine rice, with fresh bread, or alone
As a side note, because this meal is made with so many fresh, healthy ingredients, you have my permission to finish the meal with a hearty slice of apple or pumpkin pie. Bon appetit!
Copyright 2016 Megan Swaim
About the Author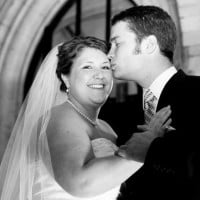 Megan Swaim is an Indiana girl on an east coast adventure. A former high school youth minister, she now gets to minister full-time to her three young daughters and her husband Josh. Megan spends her days homeschooling at the kitchen table, drinking iced coffee, and exploring coastal Virginia.