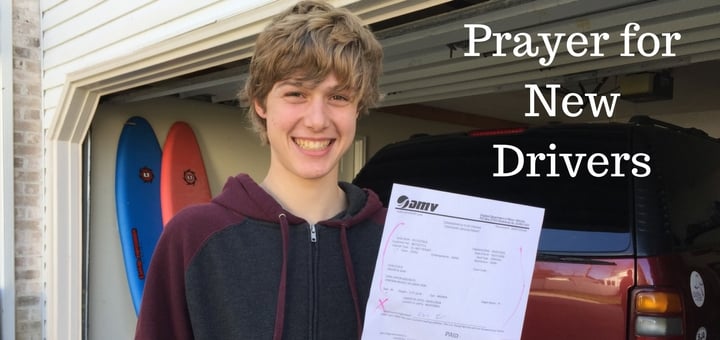 Theresa Ceniccola is navigating a new parenting road: teaching her teenager how to drive. Here she shares a prayer for new drivers and their parents.
If you have teenagers you have probably been in this situation before, but I am now navigating the waters of driver's education. Because I'm "the patient parent," I've had the privilege of riding in the passenger's seat, holding my breath and my tongue as my firstborn practices his new skills. Honestly, it's more difficult than childbirth, potty training and the first day of Kindergarten all wrapped up in one.
Never mind the fact that the car he's using doesn't have air conditioning and it's been nearly 100 degrees here most of the summer. This has nothing to do with my physical comfort. It's a complete and total loss of my emotional comfort!
Recently, I let him drive on a family road trip. He did well, considering it was his first time going over 55 MPH. But I didn't fare so well. I was grinding my teeth, clenching my fists, biting my lip and slamming my foot down on an imaginary brake pedal. When I called it quits after 30 minutes, he was disappointed. So I said, "You're doing great! It's not you – it's me." Of course, he could see right through that cliché and I had to convince him that – yes! – it truly was MY problem.
I think the problem is that I can't let go… of him…. of control… of anything. I'm working on that. This is all so new to me. I don't know how to handle it more gracefully. But one thing I do know about this process – and any other situation – is that God is in control. So I'm trying to remind myself of that truth as I begin a new season of parenting. And, as I turn this over to Our Lord, I'd like to share my prayer with you, so that you can hold onto the promise of God's sovereign rule over our lives.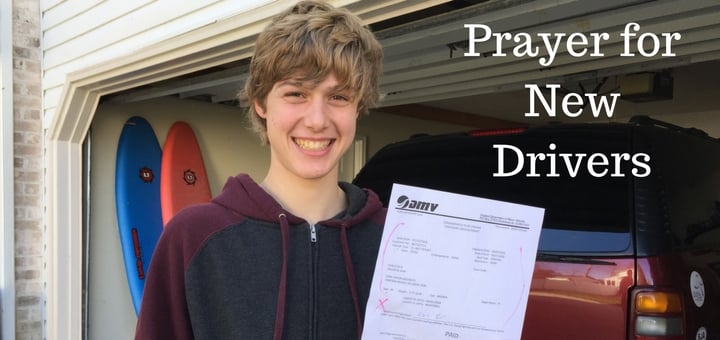 Heavenly Father,

I thank you for the blessing of a healthy, smart teenager who has a heart for serving you. I thank you for giving him the desire to grow strong in his faith and closer to you. Lord, I know it is part of your plan that he should one day leave our home and live out your purpose for him. And I understand that learning to drive is just one more step on this journey – and that my role is to train him up in the way that he shall go.

Lord, please send your Holy Spirit to guide him on this journey. Help him to make wise decisions and to keep alert to potential dangers. Prevent him from being distracted behind the wheel. If the time should come, Lord, when danger is near… I ask that you take over and send your angels to safely deliver my son from danger.

And while you're at it Lord, please watch over all the other drivers on the road. Remove the distractions that cause accidents and dissolve the anger and irritability that turns to road rage.

Lord, in your mercy, please fill me with peace and comfort knowing that your protection surrounds my child. Help me to trust you in the way that Mary trusted you with her only son – even as he hung on the cross to die for my sins. Teach me to turn my son over to you – completely and joyfully – so that he may do your will here on earth.

Amen.
---
© 2016 Theresa Ceniccola. All rights reserved. Photo by author.
About the Author