Are you back to school and resolved to be better organized? A Catholic Planner might be just what you are looking for! Sync your schedule...with the Saints!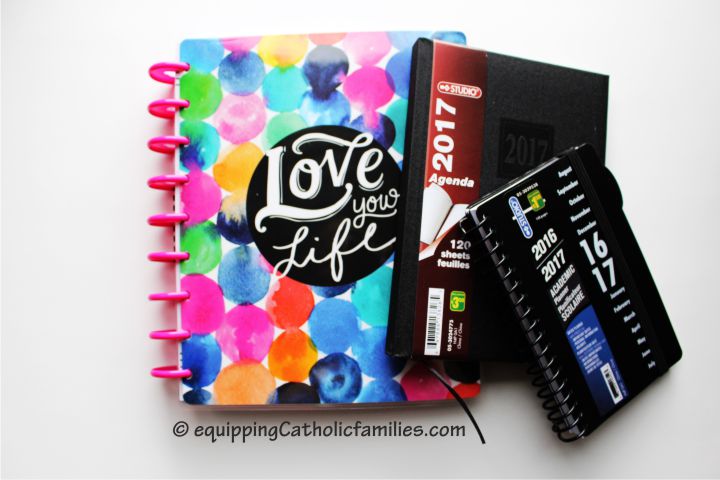 [Tweet "Sync your schedule with the saints! Make your planner #Catholic. How-to by @MonicaArmaDei"]
Back to School sales these days offer lots of planners and calendars. I used my 50%off coupon at Michael's to get a Happy Planner and I've been embellishing it/making it Catholic with my own line of Kelly Saint Stickies. Saint Stickies are PDF templates packed with our own custom artwork on 461 stickers for Feast Days, Devotions, Liturgical Seasons, Sacraments and more! We've used them on our Fridge Calendar, Planners and Prayer Journals. You can print the sticker templates on full-page label paper, but I actually get them printed at Staples to make the most of the vivid color of the templates.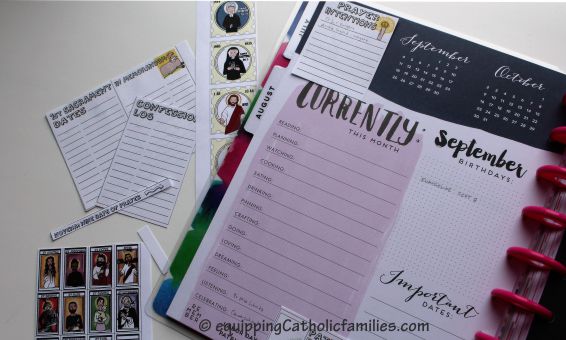 I add double-sided tape to the backs of the pages before I cut them and although it's a little tedious and time-consuming, it looks great and it helps me tailor the planner to fit me and my family perfectly!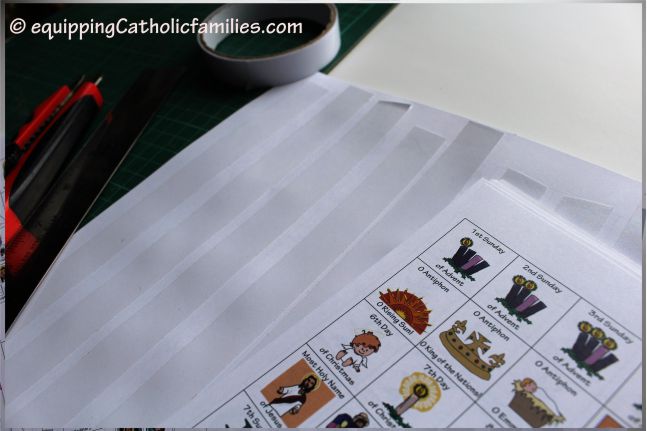 Yes...these projects are a lot of work! If you're not really into tedious and time-consuming work, it's not too late to get the last 4 months of 2016 in our own custom calendar and blog planner templates...only $5, packed with Kelly Saints! The templates already have many of the Feast Days illustrated with Kelly Saints and they include a full month-by-month index for easy reference. Watch for the 2017 Blog Planner coming out this December at Equipping Catholic Families.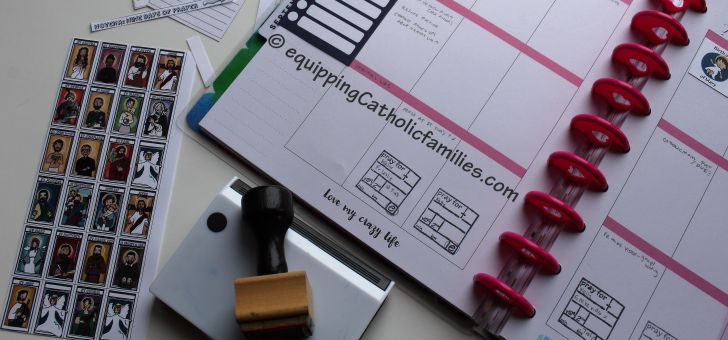 I've also designed a couple sets of custom-made rubber stamps over the years, for a quick checklist to keep me on track in my prayer journal. These work really well to customize any blank notebook into a handy prayer journal or spiritual diary. I'm realizing that they are also great for Catholic Planners!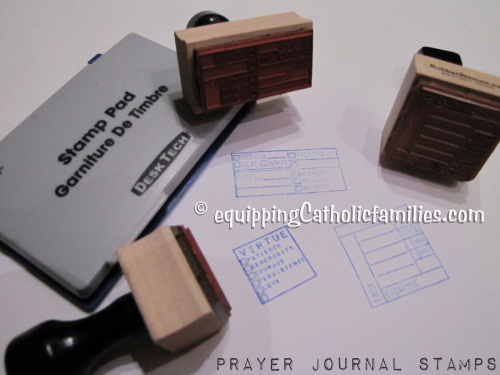 Spiritual Journey Custom Rubber Stamp templates kit is in the works...inquire over at Equipping Catholic Families.
There are some awesome Catholic Planners out there that are already researched and formatted and ready to go, including this one that I'm currently reviewing from Catholic Sistas (available in hard copy and PDF).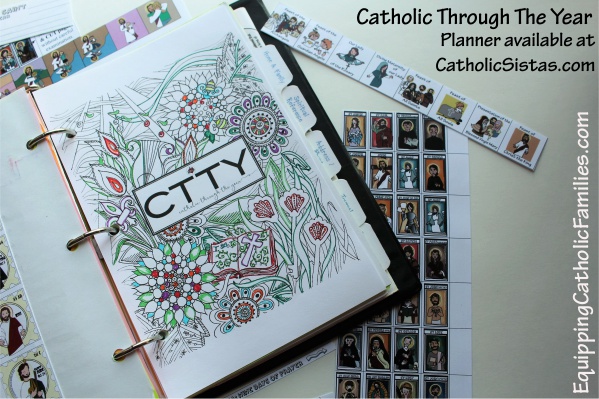 Review: The Catholic Through the Year Planner
I love that it comes in a printed version AND as a PDF for people like me who like to pick and choose which templates are right for them. I really like the Daily Examen, the prayers, Scripture and Saint quotes and the organization pages for bloggers...in fact, I like the way there are different packets available for homeschoolers and bloggers and for household management, in addition to a comprehensive calendar with all the Feasts and Seasons!
Check out my full Review of the Catholic Through The Year Planner
Purchase your Catholic Through the Year Planner here at CatholicSistas.com
There are also Catholic Stickers available for use with the CTTY Planner, but I used the Saint Stickies kit at Arma Dei: Equipping Catholic Families.
There are a few other Catholic Planners out there that look awesome as well, but I haven't yet seen them first-hand:
Copyright 2016 Monica McConkey.
Images copyright 2016 Monica McConkey, www.EquippingCatholicFamilies.com. All rights reserved.
About the Author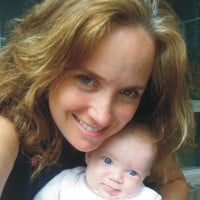 Monica, mom of 5, blogs about Catholic crafts and family traditions at EquippingCatholicfamilies.com. She is an author and creator of Super Saints quizzing cards and over 45 Saint, Sacrament, Catechism and Prayer-packed Craft Kits to help teach the Catholic Faith. The Catholic teaching tools and gifts are available through Arma Dei, the Catholic family publishing company founded with her husband Bill.