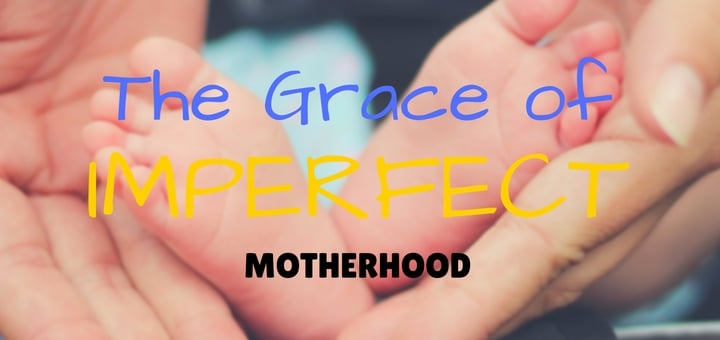 I'll be the first to let anyone know that I am not a natural mom. In fact, I never grew up around babies in my small family of origin, and I never babysat. I didn't like babies, and I certainly didn't intend to have my own.
That was, of course, over twenty years ago, and as the years passed and I grew up (at least a little), I knew that, if my vocation was to marriage, then I had to be willing to welcome children if God willed for us to have them. Then came the call, shortly after my husband and I were married - It's time for children.
A calling is definitely different than a desire. It's like this gentle tapping on one's heart that can turn into loud knocking from the Holy Spirit. The call to motherhood, for me, was a fierce and fearsome one. I didn't know what to do with a baby, but my husband and I said yes to the call.
And then God blessed us with two beautiful girls. The sleepless nights began immediately, and I was quickly overwhelmed. I remember laughing with my husband when we tried to figure out how to change a diaper - on our own daughter! Neither of us had ever changed one in our entire lives before that moment. So we got a crash course - via life experience - on parenting.
Naturally, parenting is rocky and messy and usually a constant struggle. But for some moms, it seems to come so easily. I always watch in admiration when I see mothers who appear to have interminable reservoirs of patience while juggling a newborn, a toddler, a preschooler, a kindergartner, and a first-grader.
How do they do it? I wonder. The guilt quickly sets in as I recall my earlier outburst of anger, the sighs and eye rolling (from me, not a child), and the constant inner turmoil as I cringe at every shriek or scream. Why is everything so difficult for me as a mom?
[Tweet "There is a grace of imperfect motherhood. By @JeanEwing07"]
The answer does not come quickly or easily, but I realize over time that there is, in fact, a grace of imperfect motherhood. It keeps me grounded in my faith, running back to Jesus on a daily basis and begging Him for more divine grace. It humbles me as I realize my weaknesses and inability to raise children without help from my husband and God. And I know that God works in and through my messes every step of the way.
Even though I once balked at the idea of becoming a mother, and despite the fact that I do not - to this day - have a strong, innate maternal instinct, I am grateful for the opportunity to raise these little souls to know, love, and serve God. There is no greater - or unpredictable - job than to guide a child toward his or her specific path to sanctification. And I know that God makes a beautiful masterpiece out of my foibles and flaws.
The gift of imperfect motherhood, I find, is that God's grace always compensates for my lack.
Text Copyright 2016 Jeannie Ewing, all rights reserved.
Image Copyright "Motherhood" by Bonnie Kittle on Unsplash and edited in Canva by Jeannie Ewing.
About the Author

Jeannie Ewing believes the world ignores and rejects the value of the Cross. She writes about the hidden value of suffering and even discovering joy in the midst of grief. As a disability advocate, Jeannie shares her heart as a mom of two girls with special needs in Navigating Deep Waters and is the author of From Grief to Grace , A Sea Without A Shore , and Waiting with Purpose. Jeannie is a frequent guest on Catholic radio and contributes to several online and print Catholic magazines. She, her husband, and three daughters live in northern Indiana. For more information, please visit her website lovealonecreates.com.