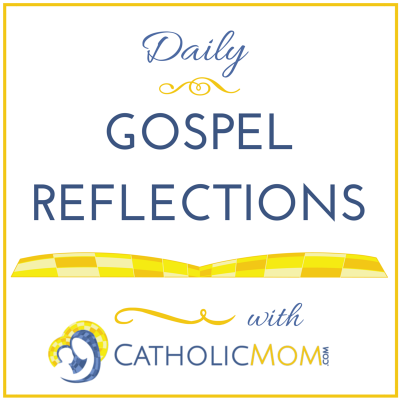 Today's Gospel: Luke 9, 43B-45
Just before this Gospel begins, Peter, James, and John witnessed Jesus cast a demon out of a boy. The day before that, they witnessed the Transfiguration. Jesus' disciples witnessed many amazing things while they were with him. In today's Gospel, Jesus tempers their amazement with a warning about his suffering. The disciples are speechless. They're confused. They don't understand. They are afraid - so afraid that they don't even ask Jesus what he means or why he must suffer.
Oh, how I relate to those first followers of Christ! I am so much like them in this regard. When I am faced with suffering, I often react exactly the same way. When I encounter suffering in my own life, I often don't understand what it means or how God will use it for good. I'm rendered speechless, I'm confused, and sometimes I'm too scared to ask God what it means or what I can learn from it.
What if the disciples had been able to move past their fear and ask Jesus the purpose of his impending suffering? Maybe Jesus could have offered them a beautiful explanation about the road of suffering leading to salvation? Maybe the disciples' fear was part of the reason the meaning of Christ's suffering was hidden from them?
In another Gospel passage (Mt 16:21-23) Peter insists that Jesus should not suffer. Jesus rebukes him and explains that Peter is viewing things through human eyes and not through God's eyes. I must always try to remember to view my suffering, and the suffering I witness around me, as a part of God's plan for my life, instead of only viewing it through my limited human experience.
Ponder:
When I am faced with suffering, do I remember to ask for the grace to move past my fear and trust in God's plan for my life?
Pray:
Dear Lord, when you allow me to encounter suffering, please help me to trust you and your plan for my life. Help me remember not to ask why I must suffer, but, rather what I can learn from my suffering. Most importantly, help me to be amazed by you, not just in your glory and miracles, but also in your suffering too.
Copyright 2016 Mary Swafford
Mary Swafford is a homeschooling mama to six little ones. She has a Bachelor's degree in psychology from the University of Memphis and a Master of Theological Studies from Ave Maria University. Mary is a former youth minister and has been a catechist for over a decade. Her passion is helping people encounter Christ through his holy Church.
About the Author