I just love this gospel passage from John.
So the disciple whom Jesus loved said to Peter, "It is the Lord." - John 21:7
John recognized him. He saw the man standing on the shore and he knew who it was.
It is the Lord.
I spend a lot of time looking for Jesus in my everyday life. I look for Jesus in people I meet and books I read and in different situations I find myself in. I look for Him and I share what I find and I praise the Lord.
But there are those times when I am not thinking about Him or concentrating on Him, when I am occupied with other things and worries.
Those times when I am in my own little boat, fishing for who-knows-what.
There was the time when I was so very sad and a parishioner came into the parish office where I work and gave me a CD of Christian music just because she thought I might like it.
Or the time when I was driving home from work, feeling oh-so-weary, and out of nowhere, with no rain in sight, a rainbow popped up.
Or that time I felt down about a bad review of my book and someone walked up to me that very day and thanked me for writing my story.
It is the Lord.
Jesus comes to us where we are. Jesus comes to us in the ordinary moments of our lives. He comes to our shores and he stands there and he watches. He tells us where to fish and he is so gentle and kind. He calls us "children."
And so we go to him. We jump out of our boats and we go to him.
And he feeds us. And he asks us, Do you love me?
You know I do, Lord. Oh, you know I do.
[Tweet "Jesus comes to us in the ordinary moments of our lives."]
Copyright 2016 Colleen Spiro
About the Author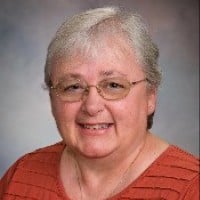 Colleen Spiro is a Catholic mother, grandmother and a deacon's wife. A certified spiritual director, Colleen loves to share her faith and encourage others through her retreats and writings. You can read her reflections at her website, Catholic Prayer Life and read or listen to her podcast at Finding God in the Everyday.