Every October, I begin thinking about Advent. I will grant, there is no need to rush our seasons; life is short! As soon as the leaves begin to fall from the trees here in the Northeast, though, my mind turns to Advent preparation. Advent itself is a time of preparation, to be sure, but I always approach it with a pre-planning mindset. I like to be very focused during Advent on the spiritual practices that I adopt for the season. What is the best way to prepare for that? In my experience, nothing beats the rosary in terms of preparing our hearts for what is to come. And why pray one rosary when you can pray 54? Was that your next question? Likely not, but let me explain!
When I am praying very intensely about something, or discerning something important, I often pray a 54-day rosary novena. The length of this endeavor keeps my mind strongly focused on that specific intention for well over a month, and therefore really "sticks" in my heart. In the past, I have had a lot of meaningful results from praying a 54-day rosary novena. Granted, sometimes it's for a larger intention that we may not see a resolution to for many years (someone returning to full practice of their faith, for instance), but in other instances I did see God's guiding hand, such as when I was praying about whether or not to switch my son to a different school. It's a very comforting and meaningful source of preparation.
[Tweet "Invitation to pray 54-day #rosary #novena! How-to's from @CatholicTiffany"]
The logistics go like this: for 54 days we pray a full five-decade rosary for a specific intention(s). The 54 days represent six novenas (which, of course, consist of nine days each). For the first half of this time period, 27 days, we pray in petition for the intention of the novena. The subsequent 27 days we pray in thanksgiving for God's will regarding the result of the novena, even if that has not been made clear to us yet. So, it is really a "power novena" of a considerable length of time.
According to several articles I have read on this devotion, regardless of what day you start, you pray the mysteries of the rosary in a very specific order. If you were to do that, you would begin with the Joyful Mysteries on the first day, which aren't the traditional mysteries unless it is Monday or Saturday, but you would begin in this fashion regardless. If you want to really be "by the book," you can pray your novena in this order. I know myself, which is to say I know that I will not remember what mystery I'm supposed to pray each day using such a system, I will lose track. I like the good old-fashioned traditional system, which for Ordinary Time is:
Monday: Joyful Mysteries
Tuesday: Sorrowful Mysteries
Wednesday: Glorious Mysteries
Thursday: Luminous Mysteries
Friday: Sorrowful Mysteries
Saturday: Joyful Mysteries
Sunday: Glorious Mysteries
For this novena, I always pray with my St. Teresa of Calcutta rosary. I was drawn to it when I purchased it specifically because of her image on the centerpiece. She is a good reminder, in my mind, of the power of prayer and staying close to God even amidst spiritual dryness.
I mentioned that I have prayed this novena in the past and have seen concrete things happen subsequently that I believe are a direct result of my prayers. Has anyone else had this experience? Have you prayed a 54-day rosary novena in the past, and would you like to join us this October and November? I would love to hear about it in the comments!

Happy rosary praying for the duration of Ordinary Time, everyone!
Copyright 2016 Tiffany Walsh.
About the Author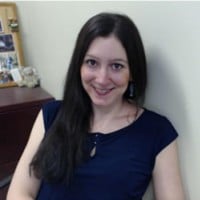 Tiffany Walsh is a wife and mother, a native western New Yorker, and a college librarian. She is a cradle Catholic who rekindled her childhood faith as a graduate student via her love of books, and is the author of Exploring the Catholic Classics, part of the Stay Connected Journals for Catholic Women series. She enjoys writing about faith, crafting, dance, fitness and wellness. Visit her blog at Life of a Catholic Librarian.