It was a very old photograph that was always in my mother's purse. Her sisters, the other Rasmussen girls, each owned a copy. This particular photograph was taken from an old Brownie camera when my mother (Dorothy Rasmussen-Mendenhall) was in her early twenties. That would have been around 1936. It was black and white and old. It was a picture of a tree that was very dark but was surrounded by a white border. Dorothy kept this photo with her all the time. It was crinkled from being folded in her purse. Why was this particular photograph important? Like many things in her life, it had a story.
Evidently the Rasmussen girls had an acquaintance who was a nonbeliever. She didn't believe in God proudly proclaiming to be an atheist. The Rasmussen girls were poor. There were thirteen children in their family, all raised Catholic. Survival was difficult during the Depression. This acquaintance apparently was not poor because she owned her own camera. The girls expressed concerns that she didn't believe in God. They suggested that she point her camera at the tree explaining she would see for herself that God existed. The point they were trying to make was that no one but God could have created something as beautiful as the tree. She asked each of them the question, "With all the bad things in the world, how can you believe there's a God?"
One of them responded, "You can see God in everything if you look."
"So, what you're saying is, if I take a picture of that tree I'll see God."
"Yes," they responded. Later, each of them was given a copy of the photo. As it turned out the photo was indeed proof. You see, when you stared for a few minutes at the photo of the tree, you could see the face of Jesus.
[Tweet "Cathy Baugh shares a family story that emphasizes this truth: You can see God in everything if you look."]
With technology being what it is today, I suppose it's not necessarily noteworthy. Many people claim to have seen the face of Jesus in a variety of places. But at that time, it truly was a big deal. They learned later that this acquaintance became a convert to Catholicism as a result of her photo. I remember looking at this old photo from time to time myself usually when reaching in my mother's purse for something. I can assure you It was true; after staring at it for a few minutes you could indeed see the face of Jesus. My mother told us one other interesting thing about this photo: "Once you see the face of Jesus in this photo, every time you look at it, it's all you will ever be able to see!"
Is faith something that is learned? Is it something that we take for granted? Or, do we need pictures of Jesus in a tree for the validation we seek.
For the Rasmussen girls it wasn't necessary for validation; they embraced their faith and their Church. It was just nice having this reminder in their purses. They're all gone now, but their faith was a reminder of what is important in life; something they learned from their own mother and passed onto their children.
Having faith in God we now know is not just about whether you have faith in Him but taking it one step further and developing a relationship where we know He has faith in us.
"The light of faith is unique since it is capable of illuminating every aspect of human existence. . . . Faith is rooted in reality when rooted in truth!" (Pope Francis – Lumen Fidei- A summary on Pope Francis' 1st Encyclical)
As Catholics we have become accustom to criticism for our tales of miracles; i.e. the apparitions of the Blessed Virgin Mary or miracles of cures attributed to Saints; but these are not just tales, they are indeed validation that Jesus and His mother, Mary, are with us trying to lead us to be with them.
I can't say why this photo came to mind this week, but like so many things I was exposed to growing up, it was about faith. I do recall it well along with so many other things that my mother did and said where her message of faith was always at the core.
"There is no human experience, no journey of man to God, which cannot be taken up, illumined and purified by this light. The more Christians immerse themselves in the circle of Christ's light, the more capable they become of understanding and accompanying the path of every man and woman towards God." (Pope Francis – Lumen Fidei: A summary on Pope Francis' 1st Encyclical.)
Copyright 2016 Catherine Mendenhall-Baugh
About the Author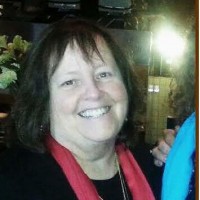 Catherine Mendenhall-Baugh (Cathy) completed her education in Special Education and English and now works as an Agent in the Insurance Industry. A mother and Grandmother, Cathy grew up in a large Catholic family and has spent the last 30 years as a caregiver for her husband, Jack. She is a cancer survivor which inspired her to begin writing six years ago.