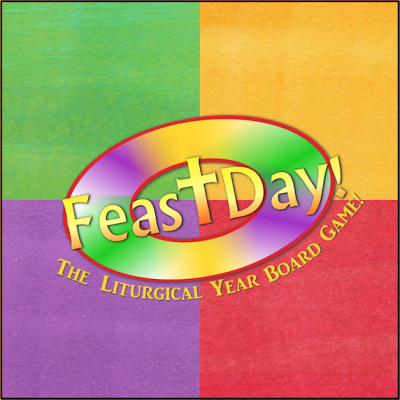 I met the creator of FeastDay! The Liturgical Year Board Game! at a Charleston, South Carolina Diocesan Conference. Steve Botsford, a convert to the Catholic faith, holds a Master of Religious Education degree from Loyola University and is a master catechist in the Archdiocese of Atlanta. He and his wife are marriage preparation sponsors. He has also served ten years as parish youth minister and remains an active catechist. Added to these game-creator credentials, Steve is a father of three who knows the value of a good family game firsthand.
[Tweet "FeastDay! liturgical #boardgame for learning about the #catholic Church Year! Review by @kerrygma"]
What inspired you to create this board game?
The idea for this game came to me a few years ago. I had an idea that the weeks of the liturgical year would make a great path for a board game, so eventually decided to try my hand at bringing it to life. Ultimately, I wanted players to know that every day in the Church year is important. Every saint (or significant event in the Church) has a day of recognition that is carefully and intentionally placed to mark an occasion that highlights and supports the season in which they fall. I am so excited to be able to help catechists and learners learn more and appreciate the beauty of God's treasure to us, the liturgical year!
As this idea became a reality I located an artist who understood the liturgical year to design the project. She had already created coloring pages for the entire year of saints. Her work is beautiful that I approached her and commissioned her to do all original artwork. That process was much more involved that I had ever imagined. We identified the seasons, saints, symbols, colors, and natural elements that would be included on the board. I also added an optional coloring pad of the game board as a teaching tool so as students learn about symbols, saints, and seasons, they can process by coloring each item one at a time!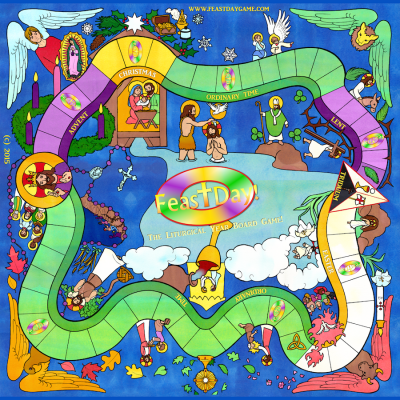 How is The Feast Day Game played?
This is a learning game based on informative trivia questions for each of the liturgical (Church) seasons. If players start on the Advent season, the start of the Church year, and progress around the board, they can in effect "play" their way through the year. There are question cards for each season along with bonus FeastDay! cards explaining about feasts and devotions.
Where can readers get The FeastDayGame?
The game is in production. To promote it I have been attending catechetical conferences and opened an online store. Get ready, here comes FeastDay! The Liturgical Year Board Game! For more information go to www.feastdaygame.com. This game is designed for up to 4 players or teams, ages 6 and up.
Visit Steve's blog on faith formation at www.TransformingCatechesis.com
Copyright 2016 Sr. Margaret Kerry, fsp
Photos: FeastDay! The Liturgical Year Game Board, Copyright: Steve Botsford, Used with Permission.
About the Author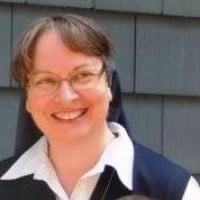 A Daughter of St. Paul for 40 years Sr. Margaret continues to pursue new ways to proclaim the Gospel: sharing the Pauline Charism with the laity, writing books (St. Anthony of Padua: Fire & Light; Strength in Darkness: John of the Cross; Prayers for the New Evangelization), & through direct evangelization. She is available for workshops on the Vocation & Mission of the Laity, Media Literacy, and The New Evangelization. mkerry@paulinemedia.com