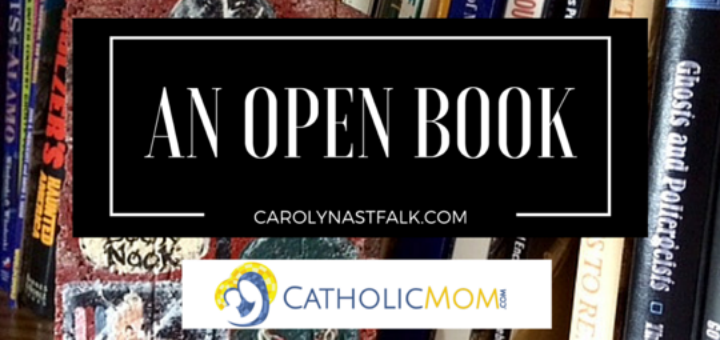 Welcome to the November 2016 edition of An Open Book, now hosted both at My Scribbler's Heart AND Catholicmom.com!
An Open Book is all about what my family is reading this month, from the adults down to the little kids. Share what you're reading by linking up your blog post below. Simply write about what you're reading. You can make it personal or, as I do, extend it to the whole family. Your post can be as simple as a few lines about the book or as in-depth as a 700-word review. That's entirely up to you. You can even forego writing all together and record a video or simply post cover photos.
No blog? No problem. Please share what you're reading in the comments.
[Tweet "Join #OpenBook linkup + share your current reads! Hosted by @CMAstfalk + @CatholicMomWeb"]
November already! In this part of the world, it's the ideal time to curl up with a book on a cold night. I prefer mine with a giant mug of herbal tea.

My husband, still using trial and error to perfect his home brewing methods, has been reading How to Brew by John J. Palmer. Some of the book, my husband says, is beyond him, as it is heavily laden with chemistry. He muttered something about an endothermic reaction. I loved chemistry, but it's been a long time since I studied it, so his words rolled over me. He's using the book as a reference to learn-by-doing regarding mash and sparge. (Yeah, your guess is as good as mine.)

I am about a third of the way through The Wood's Edge by Lori Benton, a book that's been waiting patiently on my Kindle for a very long time. I've heard exclusively good - very good - things about this novel. The premise is a British officer during the French and Indian War swaps his dead newborn son for a living, breathing half-Indian twin born in the same fort amidst the chaos of battle. There's a bit more to it than that, but the novel then proceeds to follow both families as the children grow and the fathers in particular live with the effects of this heinous crime. The writing is excellent. The book skips ahead a lot, and I'm thrown a bit by the dates at the beginning of each chapter, but that's a minor criticism. (It would be simpler for me if it listed the date and then, "x years later." That way I wouldn't have to keep electronically flipping through chapters to get my timeline straight.)

I'm also reading selections from Tales of Mystery and Imagination

by Edgar Allan Poe, which is only $1.54 on Kindle! Knowing how much I liked Poe, my husband bought me both this book and Tales and Poems many years ago. Mine are 4x6-inch hardcovers with gold edging and ribbon bookmarks, but I see both books have been published and re-published in a variety of formats. I think this linked leather-bound edition that came out days ago would be a treasure to read and enjoy. I first read Poe in high school, and he's always been one of my favorite American authors. My visit to his grave in Baltimore is long overdue.

The Challenger Disaster by TimMcNeese is being lugged around (though it's a slim paperback) in my son's backpack. It seems odd that he's reading a historical book about something I remember quite well. The book includes how NASA recovered and learned from the tragedy. He has an interest in astronomy and space exploration, and this book will help fulfill his eighth-grade reading requirement for an informational book.

My daughter was forced to take a break from reading Trixie Belden because the next book in the series is not available in our local libraries or direct from Amazon. Maybe she'll receive some books in the series for Christmas. In the meantime, I started her on the Little House on the Prairie series by Laura Ingalls Wilder. When I went digging in the attic, I should have brought out Little House in the Big Woods, which is where I think the series begins. Instead, I grabbed one of our library-sale editions with a "1" written on the spine. It was Little Town on the Prairie, so that's what she's reading. Oops. I read them all out of order, so I think she'll manage. Sadly, she told me she mentioned the book to her friends at school, and none of them had heard of the books. Yikes! Granted, in the 1970s, we had the television series to help promote the books, but I would hope that even today, new generations of girls get to enjoy Laura Ingalls Wilder's stories.

In advance of an event at our local library,

I've been reading Skippyjon Jones and Skippyjon Jones in the Dog House, both by Judy Schachner, to my two youngest children. These are hands-down my favorite books to read aloud. The writing is snappy, the stories clever and witty, and a joy to read - with accents, singing, and clapping in the appropriate spots. The illustrations are fun and lively as well. In November, Judy Schachner will be signing books at our library. Registered families (that includes us!) will receive a free copy of Skippyjon Jones Snow What to keep. There will also be kids' crafts after the program. I'm looking forward to it!
[inlinkz_linkup id=672657 mode=1]
Want more details on An Open Book? You can also sign up for An Open Book reminder email, which goes out one week before the link-up.
Check out the archives of An Open Book!
Copyright 2016 Carolyn Astfalk
About the Author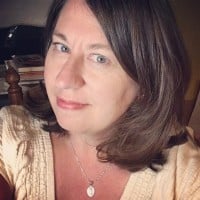 Carolyn Astfalk is a wife, mother of four young children, and a writer. Her contemporary Catholic romances are available at Amazon.com. She is a member of the Catholic Writers Guild, a Catholic Teen Books author, and blogs at My Scribbler's Heart. Visit CarolynAstfalk.com.