The month of November can seem like a somber month. Here in the Northeast the brilliant Fall colors have faded as the leaves drop to the ground. The air is decidedly cooler and the sky filled with gray clouds. Dawn is quiet as the birds move on to warmer climates.
In the Church, we focus our attention on our loved ones who have passed on before us. We write names in a Book of Remembrance and focus our prayer on their souls. Grief long forgotten can suddenly pierce the heart and cause a tear to fall as we pray.
At the same time, we think about our own mortality, particularly if we have more years behind us than ahead of us. It's a time to examine our lives -- where are we with our Lord?
[Tweet "Death is sacred, drawing us closer to God in every way. With @susanbailey"]
And yet, I have come to like the month of November. Death is frightening -- the ultimate mystery. And because of that, it is sacred, drawing us closer to God in every way. It is up to us if we want to be drawn that close. The fire of God's love will purify and it will hurt. For those of us who love God, it will be pain that leads to an eternal life of joy.
That purification happens in our life on earth as well, especially through grief. It is a creative process that shapes a new life out of death and sadness, but only if we go along with what our Lord has in mind.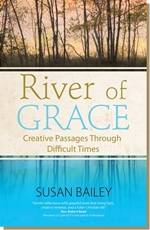 In my book, River of Grace: Creative Passages Through Difficult Times, I share my losses and how the grief from those losses opened a path to a new and vibrant life. I offer journal questions and "Flow Lessons" (using everyday items from life to create prayerful moments) to help you work through your grief.
In this short interview on CatholicTV, I share the process of River of Grace; it's a process that can help you too.
https://www.youtube.com/watch?v=XXKAGgl8l98
If you think you could benefit from this book, or if there is a friend or family member who would like it, visit Amazon to purchase copies.
I hope your month of November, though tinged with sadness, is also a time of rich blessings. God never wants to leave us empty.
copyright 2016 Susan W. Bailey
About the Author