I have more time than money so I like to make my gifts for all my adult "kids," kids-in-law, and grandkids. It is important in our consumer-driven society to show children they can create toys with things around the house. Boxes can become dollhouses or a car; a blanket can be used to make a tent rather than buying a playhouse. Parents have to encourage and model creativity, making use of material around the house. Teach little ones how to substitute and make do when they don't have what they think they need.
[Tweet "Crochet toys are easy and fun to make!#gift idea from @mjmjuneau"]
Crochet Toys are Easy and Fun to Make
During the six months, I have created finger puppets, play food and doll furniture out of leftover yarn as gifts for my grandchildren. These toys were so much fun to make and cost next to nothing to create. Crochet toys are very tactile and visually appealing.
Patterns can be found all over Pinterest. Youtube is a wonderful source; even a beginner can be successful as they follow along watching someone crochet step by step. Just rewind again and again if you cannot quite understand what to do next.
I searched the internet for the perfect finger puppet pattern but, in the end, I combined two patterns to create these finger puppets. Of course, the faces are my own design. They were made to go along with a toddlers' song which uses fingers to represent all the family members.
Daddy finger, daddy finger, where are you?
Here I am, here I am. How do you do?

Mommy finger, Mommy finger, where are you?
Here I am, here I am. How do you do?

. . . Muffin Songs www.muffinsongs.com
Of course, you can turn finger puppets into saints or the Holy Family. I also want to create a crocheted stable scene for each family in the next year.
Crochet Play Food
Patterns can be found on Pinterest and the internet for crocheted play food. The beauty of this kind of play food is it is washable where wooden food is harder to keep clean and plastic food is often too small for toddlers because they tend to chew it.
Doll House Furniture
After I saw patterns which used pieces of cardboard or plastic sheets with grids to make doll appliances, I thought of covering lego blocks with crochet. Then I added crocheted doors, countertops, handles, and buttons. The result was surprising and very appealing. I just wing it without a pattern; I cover stacked legos, which provide a firm base, in continuous rounds with crochet and then make doors and countertops separately and sew them on.
Copyright 2016 Melanie Jean Juneau
About the Author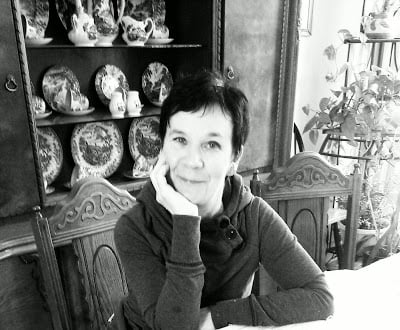 Melanie Jean Juneau is a mother of nine children who blogs at joy of nine9. Her writing is humorous and heart-warming; thoughtful and thought-provoking. Part of her call and her witness is to write the truth about children, family, marriage and the sacredness of life. Melanie is the administrator of ACWB, the Editor in Chief at CatholicLane, CatholicStand, Catholic365 , CAPC & author of Echoes of the Divine.