The other day as I walked into a store and heard holiday music I wondered, "Whatever happened to Advent?" We may not escape the invitations to consumerism that surround us and at the same time we do want to give thoughtful gifts to friends and family to mark Jesus' birthday.
[Tweet "This #Advent, the @DaughterStPaul, @nunblogger and @kerrygma offer ways to #PutJesusFirst"]
To help us celebrate a peaceful and prayerful Advent season the Daughters of St. Paul created "Put Jesus First: an Advent & Christmas Planning Guide" to help you and your family focus on what matters most. You can download it here.
On the Pauline Books & Media blog I found this wonderful explanation:
"The word Advent means "arrival" or "approach." For thousands of years, humanity waited for the Messiah who would come to redeem humanity and restore its relationship with God; the books of the Hebrew Bible nearly sing with yearning for this event. We connect the coming of Christ as a baby in Bethlehem to Christ's second coming, so we are experiencing that yearning both as a commemoration of a past event and in anticipation of a future one. Advent is a time for us to recognize our spiritual longing for God and to be drawn into an ever-deepening relationship with him." Read more here.
If you are really pressed for Advent time, Sister Anne Joan, Nunblogger, created an "Advent Word of the Day" that you can sign up for. You will get the daily word with a short reflection and application with a Bible citation to look up if you want to go deeper. This is the busy person's Advent guide, since it at least allows you to have ONE Advent-related thought every day of Advent and of the Christmas season (through to January 6). Sign up here for the Advent Word of the Day
I pray that your Advent will be a season of peaceful, joyful expectation and deeper spiritual preparation.
Read more articles in our 2016 Advent Guide.
Copyright 2016 Sr. Margaret Kerry, fsp
About the Author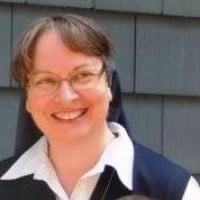 A Daughter of St. Paul for 40 years Sr. Margaret continues to pursue new ways to proclaim the Gospel: sharing the Pauline Charism with the laity, writing books (St. Anthony of Padua: Fire & Light; Strength in Darkness: John of the Cross; Prayers for the New Evangelization), & through direct evangelization. She is available for workshops on the Vocation & Mission of the Laity, Media Literacy, and The New Evangelization. mkerry@paulinemedia.com