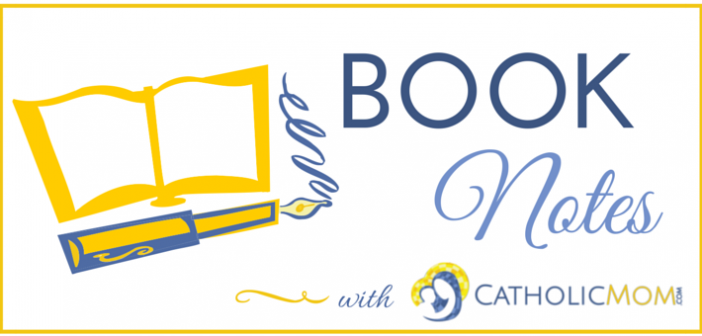 Do you enjoy a good biography? I've been reading these 6 books lately, and there's one for just about every taste. Some are not true biographies, but there's enough content along those lines in each of these books for me to consider them a part of that genre.
[Tweet "Surfers, sisters, saints and more: 6 biography #bookreviews by @franciscanmom"]
Collective Biography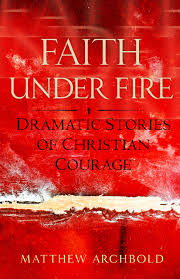 Faith Under Fire by Matthew Archbold is a timely look at modern Christians who spent their lives (and in some cases gave their lives) doing what they knew to be right, even if they were dismissed, hated or persecuted for it. 18 courageous Christians are profiled in this book. As each chapter runs 10 pages or less, this book is tailor-made for people who don't have much time to read. This book would be an excellent Confirmation gift and will appeal to readers in high school and up. Discussion questions at the end of each chapter make it perfect for study groups. The mini-biographies in this book are classified according to virtue: forgiveness, loving strangers, trusting God, self-sacrifice and courage.
Memoir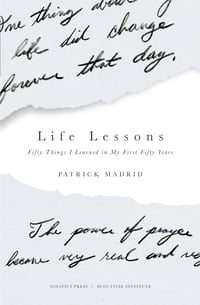 Patrick Madrid's Life Lessons: Fifty Things I Learned in My First Fifty Years is perfect for time-crunched readers. You don't have to read this book start to finish in a long reading session or two to get the most out of it; I'd argue that this book is best read in small bits of time. Written in an engaging style, this book boasts 50 short chapters and is packed with hope and humor. The vignettes in the book deal with those life lessons, both large and small, that we have to learn the hard way. Some of these lessons will make you cringe in recognition of having done (or said) something similar. Others will warm your heart. All of them will show you how God teaches us in gentle and dramatic ways.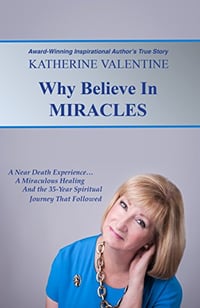 Why I Believe in Miracles by Katherine Valentine. I'm a big fan of Valentine's fiction; in fact, I was introduced to it when she shared some of her work in serial format here at CatholicMom.com. After her novels were published, however, she experienced a second miraculous healing, 35 years after her near-death experience. Valentine's autobiography spans the time between each of these physical healings, detailing the ups and downs of her own spiritual journey. This is a story of spiritual discernment, the struggle to live with conviction, and the power of prayer.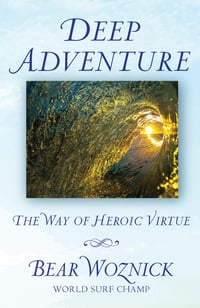 Deep Adventure: The Way of Heroic Virtue by Bear Woznick mixes autobiography, lives of the saints, and a huge sense of adventure in this book that challenges the reader to live heroically no matter what the circumstances. Woznick organized this book into sections based on the cardinal virtues (justice, temperance, prudence and fortitude) theological virtues (faith, hope and love), noting that true heroes live these virtues on a daily basis--not only under those circumstances that require dramatic rescues, but in small ways as well. This book would make a great gift for the hero in your life, or for a young adult preparing to take on the world.
Q&A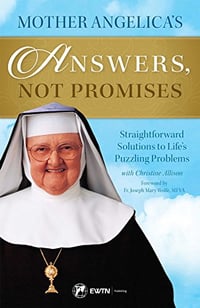 Mother Angelica's Answers, Not Promises with Christine Allen. This is not a biography per se, but one of the most fascinating things about this book was the behind-the-scenes information on the creation of EWTN. I'd never seen Mother Angelica's TV program, but after reading this book, I wish I'd watched! Her answers to viewer questions are full of common sense, and they're blunt at times, but that bluntness is born of love and of the need to speak the truth, even when it's hard to hear. Feel free to skip around in this book and read what you need today--what you need tomorrow will be different. This book is a re-release of a 1987 publication; if you're late to the Mother Angelica party (like I am) or missed this book the first time around, I highly recommend it.
History/Medical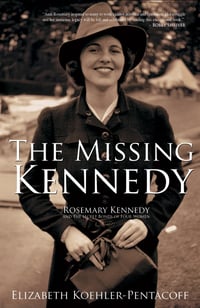 The Missing Kennedy by Elizabeth Koehler-Pentacoff. Examining the lives of Rosemary Kennedy and the Franciscan nun who cared for her during most of her adult life, Pentacoff's book connects a privileged handicapped woman who lived a sequestered life with the very ordinary women who ministered to and visited her. The author grew up around Rosemary Kennedy, who was cared for by Sister Paulus, the author's aunt. Koehler-Pentacoff, along with her parents, was present for holidays, birthdays and ordinary days with Rosemary Kennedy. This is a chronicle of an era when mental illness was misunderstood, and treatments for mental illness were dramatically different than the treatment available today. The book is not a comprehensive biography of Rosemary Kennedy, but the story of how Ms. Kennedy's life intersected with that of the author.
From the publisher:
The book delves into Rosemary's misdiagnosed condition, why her father sought an experimental brain surgery for her without his wife's knowledge, how he kept this fact hidden from the rest of his family for twenty years, and what Rosemary was actually like after her lobotomy.

Through the author's relationship with Rosemary, Sister Paulus, and her other relatives, the author discovered how family, faith and silence intertwine to bond, strengthen, or destroy ourselves and our relationships, no matter our status or circumstance, whether one is in a rich extraordinary family or a poor ordinary one.
Buy any of these books through our Amazon link and support CatholicMom.com with your purchase!
Be sure to check out our Book Notes archive.
Copyright 2016 Barb Szyszkiewicz, OFS
About the Author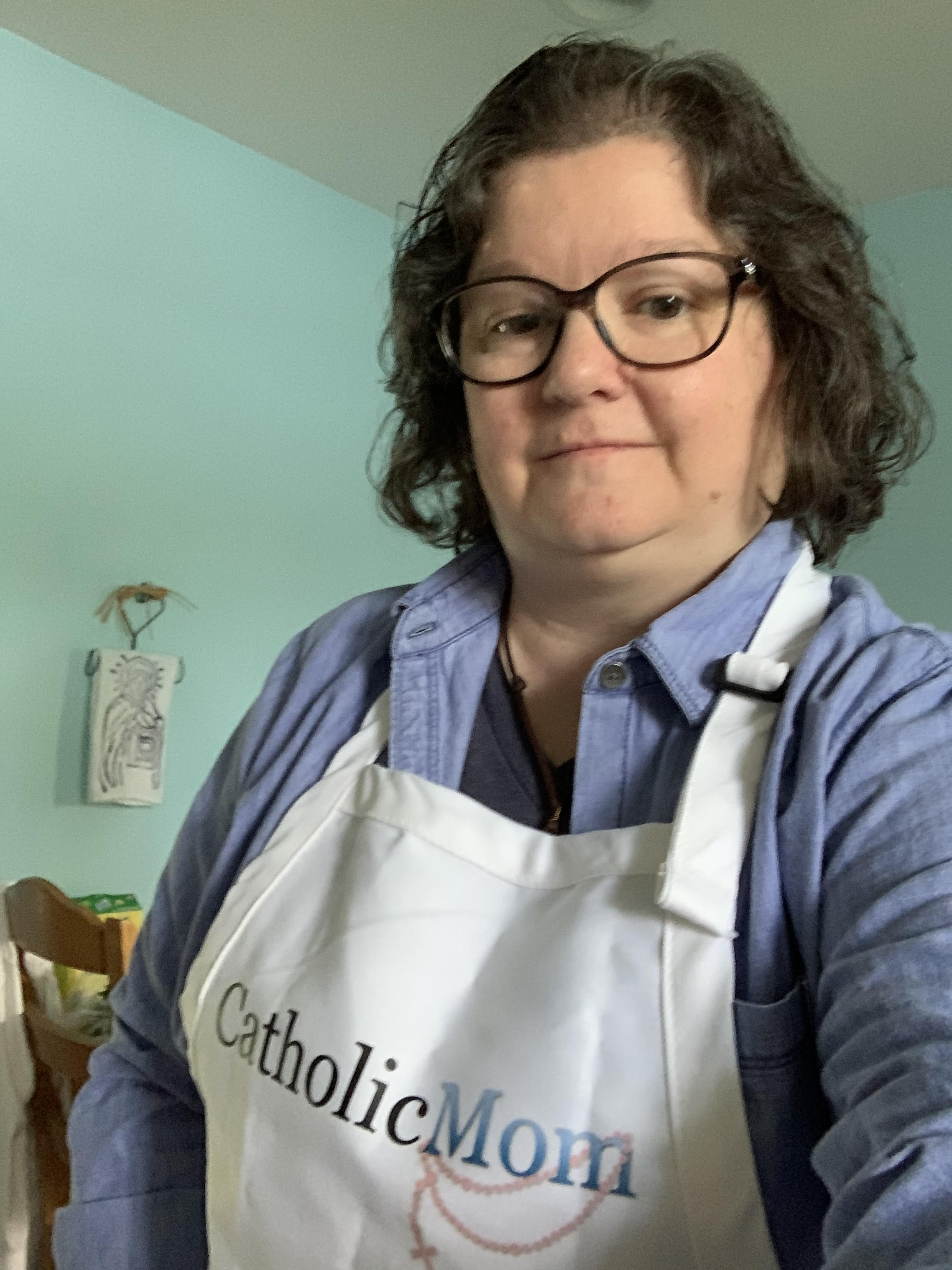 Barb Szyszkiewicz is a wife, mom of 3 young adults, and a Secular Franciscan. She is editor at CatholicMom.com. Barb enjoys writing, cooking, and reading, and is a music minister at her parish and an avid Notre Dame football and basketball fan. Find her blog at FranciscanMom and her family's favorite recipes with nutrition information for diabetics at Cook and Count. Her booklet, The Handy Little Guide to Prayer, is available now from Our Sunday Visitor.