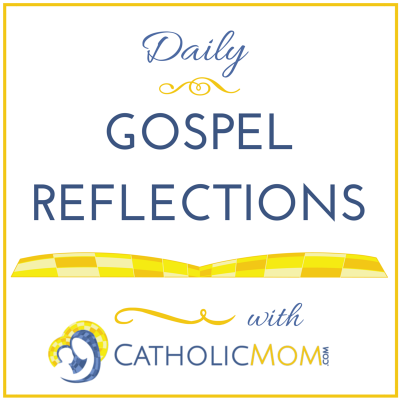 Today's Gospel: Luke 1, 26-38 - Our Lady of Guadalupe
Today we celebrate the feast of Our Lady of Guadalupe. On December 12, 1531, Mary left an imprint of her image on St. Juan Diego's cloak, which can be seen today at the Basilica in Mexico. One of the most striking features of this miraculous image is that Mary is pregnant. Our Gospel today tells the story of Jesus' conception. How this came about lies in one word that changes everything – TRUST.
God never asks anything of us that He does not first do for us. He models the way of trust. God trusted Mary with His only Son. God's trust in Mary prompts her to place her complete trust in Him. In doing so, she becomes the first living monstrance for Jesus to dwell.
When she appears to Juan, Mary describes herself as the "Mother of the True God" who "desires a temple" for Jesus to dwell. Because of the Trinity and Mary's selfless gift of love and trust, Christ abides within us! We are living temples for Jesus to dwell and touch all those we encounter. Jesus trusts us! Like Mary, we need to respond with complete trust in Him.
When we are "greatly troubled" by what God asks of us, Mary offers these words of motherly love to Juan for us:
"Listen and let it penetrate your heart....Do not be troubled or weighed down with grief. Do not fear any illness or vexation, anxiety or pain. Am I not here who am your Mother? Are you not under my shadow and protection? Am I not your fountain of life? Are you not in the folds of my mantle? In the crossing of my arms? Is there anything else you need?"
Seeking shelter in our Mother's arms, we can confidently say yes to God's dream for us.
Ponder:
When I am "greatly troubled", what is my first course of action? Do I, like Mary, have the courage to ask questions and "ponder" in my heart what God asks of me so I can discern the next right step to take?
Pray:
Mommy Mary, please help me to turn to you when fear or doubt seize my heart and paralyze me. Strengthened by your embrace, with your hand in mine, I say yes to God by placing all my trust in Him.
Copyright 2016 Cara Stolarczyk
Cara is a wife and mother who strives to live each day savoring the present moment where God abides. She helps build up the Body of Christ via faith formation, talent development and spiritual formation. Cara enjoys supporting individuals in identifying, developing and utilizing their talents, reflecting on their experiences to support them in becoming their best, most authentic selves.
About the Author