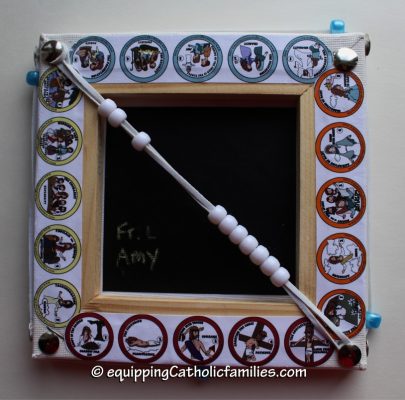 Looking for a way to get the family praying more? We've been making these Easy as Abacus Rosary and Novena Prayer Counters featuring our original Kelly Saints artwork, pony beads and wood-framed canvases. Here's a link to our Easy as Abacus Rosary Tutorial where we show you what materials we used and how to use them.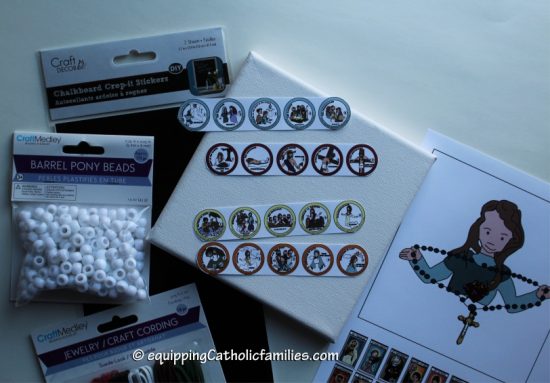 We've also extended this helpful prayer counting tool for Novena prayer trackers. Novenas are devotions prayed over nine days leading up to a particular Feast. Sometimes the same sets of prayers are recited each day; other novenas include different prayers to be said each day.
[Tweet "Keep track of #novena prayers with counting tool by @MonicaArmaDei"]
I find it difficult sometimes to keep track of numbered sets of prayers (as I'm saying them!)...or even how many days I've stayed on track to continue the devotion. These pony beads slide and stay in place across thick crafting cord and help keep track of the prayers throughout!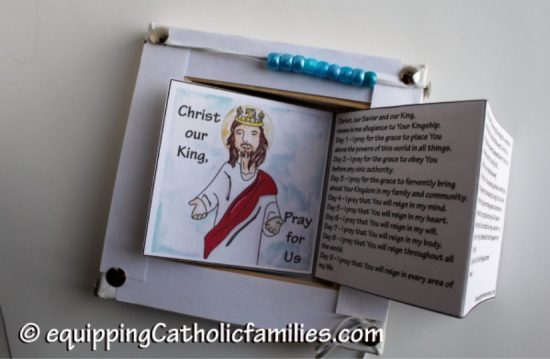 With different Kelly Saints clipart to exchange within the central part of the frame, this prayer counting tool can be customized for any Novena throughout the entire Liturgical Calendar! Check out the Easy as Abacus Divine Mercy.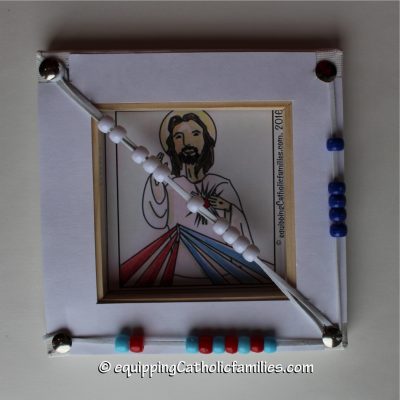 We attached three different strings of beads: the white diagonal string represents the ten prayers of each decade, the five blue beads on the side represent the five decades and the string of nine red and blue beads represent the nine days of prayer!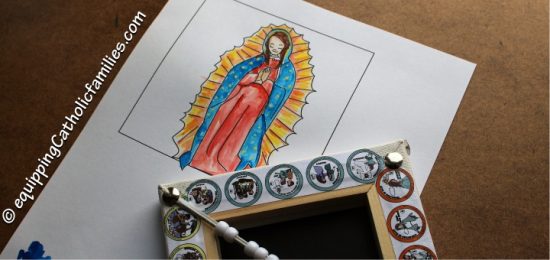 The unending list of awesome Feast Days of the Liturgical Calendar...is giving us the excuse to revisit our Kelly Saints images and water color them, providing a nice, kid-friendly focal point for our dedicated prayers. Interchanging the different Novena prayers and images, we can use the same Abacus, Novena after Novena.
What is your favorite Novena?
Tell us in the comments...for your chance to win an Easy as Abacus Craft Kit from the Arma Dei Shoppe!
Copyright 2016 Monica McConkey.
Images copyright 2016 Monica McConkey, www.EquippingCatholicFamilies.com. All rights reserved.
About the Author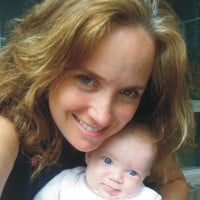 Monica, mom of 5, blogs about Catholic crafts and family traditions at EquippingCatholicfamilies.com. She is an author and creator of Super Saints quizzing cards and over 45 Saint, Sacrament, Catechism and Prayer-packed Craft Kits to help teach the Catholic Faith. The Catholic teaching tools and gifts are available through Arma Dei, the Catholic family publishing company founded with her husband Bill.