1. Prayer Journal Prompts Workshop PDF Craft Kit by Arma Dei, printed on label paper . . . Brilliant!
Workshop Tip: Purchase the Prayer Journal Prompts Workshop Kit that includes the Label Templates for use with YOUR group!
2. Dollar store Notebooks: You will find an assortment of cool lined paper notebooks at your nearest dollar store. Hardcover books are the best! Keep an eye out for hardcover day-timers, especially the ones with lined pages where you can add the date as you go!
Workshop Tip: Choose a decent size of notebook (5" x 7" or 6" x 8.5" is nice!) with lined paper, preferably not spiral bound. Blank covers can be customized nicely with Catholic clip art (included in the Prayer Journal prompts Kit), prayer cards, washi tape, paint . . .
3. Journal Stamps: Have a couple different Prayer Impressions Journal Stamps available with colorful stamp pads so the ladies can pick and choose which ones they want to use and which pages they'd like to stamp.
Workshop Tip: one Prayer Journal Prompt or Journal Stamp is recommended on every page, or every other page to ensure ample space to prayer journal.
4. Classic Prayers: There are 24 classic prayers included within the Prayer Journal Prompt Craft Kit and many of them are illustrated with Kelly Saints. These can be printed on sticker paper for easy use, or printed on cover stock and cut for bookmarks.
Workshop Tip: Add them to the inside cover of the Prayer Journal for easy access!
5. When our parish hosted our first ever Prayer Journal Workshop, the ladies of our Women's Ministry printed out some favorite prayers and displayed them on Bristol board, encouraging the ladies to take pictures of specific prayers with their phones and copy them into their prayer journals later. Writing out the beautiful words of classic prayers (or Scripture!) can be very prayerful and contemplative...and may help us to memorize the ones we especially like!
Workshop Tip: As part of the invitation to the Workshop, request that everyone brings a prayer card of their favorite prayer or Scripture, printed out or neatly hand-written. Share on the Prayer Board display at the Workshop. Encourage attendees to take pictures of the prayers that appeal to them (on their phones) to record in their prayer journals later!
6. Prayer Cards: Bring your collection of classic prayer cards or Saint images to embellish the cover of your Prayer Journal!
Workshop Tip: Don't forget your Parish Patron Saint!
I have a Prayer Book Pinterest Board where I collect favorite holy images and prayer cards. From time to time, I print them out for my prayer book!
If you want an instant stash of over 75 Prayer Cards, check out our All Season Prayer Bank Craft Kit.
If you'd like the watercolor Kelly Saints prayer cards, you'll find 14 of them in the Kelly Saints Blessing Cards Craft Kit.
As with all of our Cathletics Craft Kits, the kit includes permission to copy for a whole classroom . . . or all the ladies in your Women's Group!
6. Offer enough time, space, prayer prompts printed on label paper, stamps, stamp pads, colorful pens, scissors, washi tape and glue for the ladies to begin customizing their prayer journals at the meeting. Supplies could be made available at different tables or stations for different crafting methods, or an assortment of supplies could be offered at each table for small groups to gather.
Workshop Tip: Encourage everyone to begin customizing their prayer journal at the meeting! There's a 90% chance that notebooks that leave the meeting 'untouched and blank' will stay that way! We also get ideas and inspiration from each other, so if we customize our prayer journals together at the same table, we will end up with awesome and creative prayer journals!
7. Small Groups. Encourage the ladies to talk about their own prayer habits. Everyone is bound to be inspired by a different way to pray!
8. Music: Select prayerful/Christian worship music carefully: loud enough to be heard, but not too loud to distract from conversation.
9. Snacks: Have plenty of snacks and drinks for happy crafting and fellowship.
10. Have fun: There isn't a right or wrong way to make the Prayer Journal; use the Prayer Journal prompts and stamps that appeal to you, and make the Prayer Journal that will best help you pray!
Visit the Arma Dei Shoppe to purchase your own Prayer Journal Prompts Workshop Kit as a PDF that you can print at home on label paper!
Copyright 2017 Monica McConkey, www.ArmaDei.com and www.equippingCatholicfamilies.com. All rights reserved.
About the Author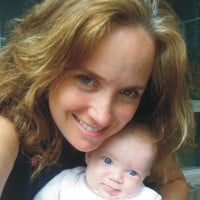 Monica, mom of 5, blogs about Catholic crafts and family traditions at EquippingCatholicfamilies.com. She is an author and creator of Super Saints quizzing cards and over 45 Saint, Sacrament, Catechism and Prayer-packed Craft Kits to help teach the Catholic Faith. The Catholic teaching tools and gifts are available through Arma Dei, the Catholic family publishing company founded with her husband Bill.