My kids are super into Frosty the Snowman this year. I have explained often that I cannot dictate to the radio station what songs to play and no, they don't play Frosty every other song. My son (5) and daughter (4) have been playing a lot of make-believe that incorporates Christmas topics. Frosty is obviously a key character. But they are also just as interested in the nativity scene. We have had more than one Mary bombarded with play snowballs before she visited the animals in the stable. Baby Jesus seems to cry a lot and require much nurturing. He also needs every blanket we own to make him feel better.
One morning about 2 weeks before Christmas, my 4-year-old woke up and was very excited to tell me about the dream she had that night. Full disclosure, I have no idea what the context of this dream was but I did catch the most important part. She said, and I am directly quoting:
And then Jesus came to life! Jesus came alive out of my heart!
[Tweet "Wisdom from a preschooler: 'Jesus came alive out of my heart!' by KateTaliaferro"]
I nearly fell down the rest of the stairs. I could sit and think for hours about the Christmas miracle and what it means for us today. But I don't think I could come up with anything more profound than that little 4-year-old.
Though we celebrate the historical moment when Jesus came to the world, we are called to make Jesus come to life in our lives every day of the year. Jesus does not need to be born just on Christmas morning. Jesus is born in our hearts each time we choose patience instead of anger, joy instead of angst, peace instead of violence, love instead of hatred. He comes to life when we serve others before ourselves, when we teach our children to be thankful for what they have been blessed with, when we give generously rather than begrudgingly.
Jesus can be born in our hearts and truly come alive every day of the year. All we have to do is invite Him in and be willing to let His light shine through us.
Copyright 2016 Kate Taliaferro
About the Author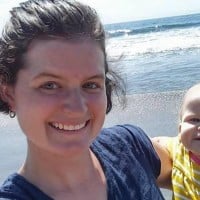 Kate Taliaferro is an Air Force wife and mom of 6. She has a Masters in Religious Education and tries to find God's presence in all parts of her day, be it cooking, cleaning or just the everyday ordinary. She enjoys homeschooling, stitching crafts and finding cheerios between the couch cushions. She blogs at Daily Graces.