A little box arrived in the mail yesterday for my Rosie. When I found out I would have the opportunity to review the Catholic T-Shirt Club Box, I knew my 4-year-old girl would love to review it with me!
As you might have guessed, this subscription box has a Catholic T-Shirt. You get to pick your T-shirt size, even for little ones. There are different levels of subscriptions, some of which include sacramentals like prayer cards, rosaries or scapulars. Rosie's box was themed around Padre Pio and his quote: "Do not forget the guardian angel who is always with you."
Rosie received a t-shirt, a guardian angel craft and a book about Padre Pio. She immediately wanted to jump in and make the craft. Her little angel is in her room now, watching over her while she sleeps. (She named her Rosie, surprise surprise).
I think that this box is a great gift idea for so many occasions. Graduation, birthdays, Mother's Day, Father's Day, Christmas, or even as a way to celebrate a special moment like the first month of school. There is even a box that has two of everything - perfect for a newlywed couple or as an engagement gift.
[tweet "Child's-eye view of @catholicteeclub #PadrePio gift box -by @KateTaliaferro and daughter"]
Here are a few quotes from Rosie:
A box just for me?!

Wow, I didn't know a shirt could come in a box!

Mommy, can I make my angel now??

When can I wear my new shirt? Is right now OK?
This is a great box and I definitely recommend you check it out!
Learn more about the Catholic T-Shirt Club.
Copyright 2017 Kate Taliaferro
About the Author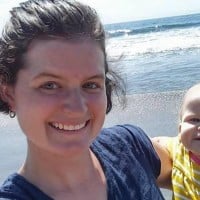 Kate Taliaferro is an Air Force wife and mom of 4. She has a Masters in Religious Education and tries to find God's presence in all parts of her day, be it cooking, cleaning or just the everyday ordinary. She enjoys homeschooling, stitching crafts and finding cheerios between the couch cushions. She blogs at Daily Graces.