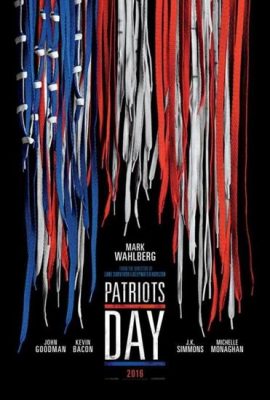 The week of Christmas typically includes the launch of many films, and this year is no exception. Over the next few days, I'll be sharing my impressions of a few of the latest Hollywood releases. One of the great blessings of living in our new home of Los Angeles is access to early screenings of movies. My favorite movie "buddy" is my twenty-two year old son, a college student who always has an opinion and loves to chat about films as much as I do.
Our visit to screen Patriot's Day was emotional for me. The weekend before our screening, I had the opportunity to attend the junket for the movie. Junkets feature not only the stars of films, but also the production team and other personalities related to the making of a movie. For Patriot's Day, along with Mark Wahlberg and director Peter Berg, among those we heard from were husband and wife Patrick Downes and Jessica Kensky. Even with a room full of beautiful and talented celebrities, it was Patrick and Jessica's story that tore at my heart. It was their recounting of those moments on the route of the marathon and what happened to them next that drew me in to this sad event in history from a more human perspective. And it was Patrick and Jessica who taught me what "Boston Strong" really looks like.
https://youtu.be/_c9IpI_pNGI
Patriot's Day is a semi-fictional recounting of the events of the 2013 Boston Marathon bombing and its aftermath, focusing most specifically on the manhunt for brothers Dzhokhar and Tamerlan Tsarnaev. In the film, we meet not only Patrick and Jessica's characters, but also citizens and government and law enforcement officials who lived the events of that day and it's aftermath.
Synopsis
From acclaimed director Peter Berg ("Deepwater Horizon," "Lone Survivor") and Academy Award® nominee Mark Wahlberg ("The Departed," "Lone Survivor"), CBS Films and Lionsgate present "Patriots Day." Based on true events, "Patriots Day" is a powerful story of a community's extraordinary courage in the face of adversity. An account of the events surrounding the Boston Marathon bombing, the tension-packed dramatic thriller chronicles in detail one of the most sophisticated and well-coordinated manhunts in law enforcement history.

The 2013 Boston Marathon bombing shattered lives and tested the fabric of the American spirit. But in its wake, an entire city came together to bring the perpetrators to justice before they could inflict further damage. Rather than give themselves over to panic and fear, the citizens of Boston banded together, choosing solidarity over divisiveness in pursuit of a common enemy.

A testament to the city of Boston and its inhabitants, the timely message is that, through dedication and individual acts of bravery, the city – and the country – were able to emerge from the crucible stronger and more united than before, and show the world that love always triumphs over evil.
A Love Story
Having the opportunity to hear from Patrick and Jessica about what the film meant to them prior to screening it had a huge impact on my opinion of the film. Instead of watching this as a blockbuster inspired by true events, I focused on the couple I had heard from just days prior, remembering how their courageous recounting of their own life-altering experiences was portrayed in this movie. I had asked myself when I heard them at the junket how I might feel about reliving something so horrific in the making of the film. It seemed clear to me that Patrick and Jessica have not only survived, but have thrived, but not without daily challenges and trials. Had I been through all that they had, both in terms of physical and emotional horror, would I be able to relive it (even if only on the big screen)?
My friend and fellow Catholic blogger Kate O'Hare offers her take on the film here at her Patheos blog, sharing astutely:
Like Kensky and the other survivors, we can bounce back from these brutal attacks, but they will tear away pieces of us, and they will leave scars. And, of course, that's what the terrorists want most.
Patriot's Day is an action film, complete with explosions, chase scenes, and a dramatic manhunt. But what makes this film different from other action films is the fact that it carefully portrays actual events. Most of us can remember where we were and what we felt in our hearts the day of the bombing. For Patrick Downes and Jessica Kensky, life will never be the same.
So why make this movie? And why go see it?
For me, Patriot's Day is more about love than hate, more about activism than action. If you choose to see this film, plan to stay for its ending, which is where the true heroes of this story are to be found. In the screening we attended, the audience applauded loudly as we met the "real" Bostonians portrayed in this film. In truth, while the story of Mark Wahlberg's character mainlines this film, it is the city of Boston and her people who truly star. "Boston Strong" takes center stage here, inviting us to look back for a moment, to offer prayers for those lives lost and impacted in the tragedy, and to ask ourselves what each of us can do individually to live and love as courageously as Boston has done on Patriot's Day and beyond.
This film is Rated R for violence, realistically graphic injury images, language throughout and some drug use. I recommend that only mature teens and older see this and that you take time after the film to discuss its many lessons and to pray for the souls of those lost and those who continue to struggle to rebuild their lives.
Patriot's Day opens nationwide on Jan. 13. Click here for tickets.
Learn More:
Copyright 2016 Lisa M. Hendey
Images: Courtesy CBS Films, used with permission
About the Author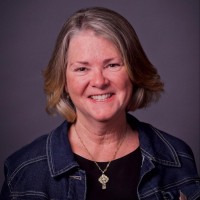 Lisa M. Hendey is the founder of CatholicMom.com, a bestselling author and an international speaker. A frequent radio and television guest, Hendey travels internationally giving workshops on faith, family, and communications. Visit Lisa at LisaHendey.com or on social media @LisaHendey for information on her speaking schedule or to invite her to visit your group, parish, school or organization. Visit Lisa's author page on Amazon.com.