Today, I'm thrilled to share the following interview conversation with Patricia Kasten, the author of the fascinating new book Making Sense of Saints: Fascinating Facts about Relics, Patrons, Saint-Making and More. LMH
Q: Please briefly introduce yourself and your family to our readers.
A: I've been a Catholic journalist for nearly 30 years. I also create and sell word puzzles – because I've always loved puzzles – based on Sunday readings for Catholic newspapers and parishes. I have no children of my own, but have been proud of the three sponsored children I have been blessed to know through a Christian support organization promoted by some of our local priests. My sister and I live in our family's home, with our four cats.
Q: Tell us about "Making Saints of Saints" -- what will our readers discover in this book that differs from other saint-related books they may have read?
A: "Making Sense of Saints" isn't a book about specific saints, though I do mention many saints! Rather, the book explores how saints come to be canonized by the Catholic Church. I started by looking back at how the early Church recognized saints – such as Mary, Joseph, Peter and Paul – and then I travelled up through history to end up with explaining the rather complex process we have today which just brought us two canonized popes on the same day. It was a fun and interesting journey.
Q: You cover some interesting areas that are sort of "frequently asked questions" about the saints. How did you decide what to include in this book?
A: Well, I looked at what I was interested in knowing, and that I had found fun to learn about over the years: What are relics? Who's my patron saint? How did they know what St. Agnes looked like? Why do saints always have haloes in paintings? I decided that, if I was curious about these things, so were other people and they would want to know what I was able to find out. It's the journalist in me: I want to know Who, What, When, Where, Why and How. And then I want to share the answers with people.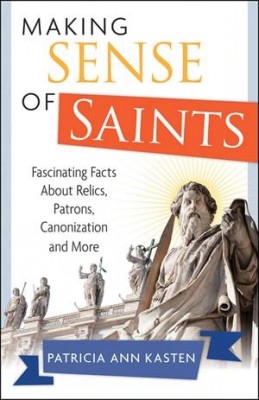 Q: What were some of the things you wrote about that were new discoveries for you in your writing of Making Sense of the Saints?
A: I always knew about patron saints. But I didn't realize how many patron saints we can each have: There's our name saint and our birthday saints. But there are the patron saints of our hobbies – St. Sebastian for archery or St. Gertrude for cat lovers. And then there is the tradition of picking a patron saint for each new year. I never knew about that tradition – yet the Von Trapp family did that every year. Now there are online sites that will help you do that. That was astonishing for me.
Q: Who are some of your favorite saints and why are they significant to your spiritual life?
A: One of my favorites is St. Martha. I always felt a little sorry for Martha – here she was, doing all this work, and no one was helping her. So she asked the Lord for help. I used to think that Jesus didn't seem to help her, but later I came to realize that he probably was trying to give her a reason to put down the dish towel and join them in the discussion. Later, at Lazarus' tomb, we can see how much Martha had grown in her faith, to the point that she makes a complete profession of faith, which was the mark of a full disciple. Also, I'm the big sister in my family, so I can relate with Martha. She just seems like a big sister. I also like Blessed Fulton Sheen – I've always enjoyed both his writing and his T.V. shows. As a writer and journalist, I feel an affinity with him. And he had such an Irish twinkle in his eye (like my grandmother did) that I always thought he'd be fun to interview!
Q: I noticed that you included great reflection questions at the end of each chapter. Why is this a great book for groups to enjoy together?
A: Well, it's probably all part of what I wanted to get across about the "Communion of the Saints" in which all of us are called to share. We all have a need to share ideas, insights and stories of faith with each other. Not only does this draw us closer to each other, but it moves us closer to God, through the saints. By posing questions about our personal experiences with saints or questions we've had put to us about saints, I hope people become more comfortable talking about saints, and our faith. As we get more comfortable doing that with other people we be might sharing a class or a book discussion group with, then we will become more comfortable sharing our thoughts in everyday conversations. That's what new evangelization is about – sharing our stories about God and the saints, and welcoming others to do the same.
Q: Are there any additional thoughts or comments you would like to share with our readers?
A: I think we have all had tough questions posed to us: "Why do you pray to the saints? Why do Catholics "worship" Mary? What are relics?" Most of us know the answers, but we don't always trust ourselves to "get it right" when we answer. So I wanted to get some of the facts down for people; yes, as a reference, but also to help them realize that we all have personal stories that connect us to the saints. For example, who doesn't want to know more about relics? Are you comfortable trying to explain them? But think about this: Who hasn't kept a cherished memento of a friend or relative who has died? It connects us to them – both through good memories and in the reality of faith that tells us they are alive in Christ and still part of our lives because of that. Relics of saints aren't really that much different. If you start explaining relics from that reference point, it can get a lot easier. Our own stories help us understand our faith and share it with others – confidently.
Order Making Sense of Saints: Fascinating Facts about Relics, Patrons, Saint-Making and More and support CatholicMom.com with your purchase
Copyright 2014 Lisa M. Hendey
About the Author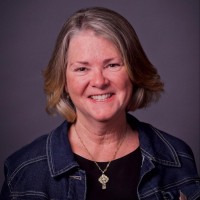 Lisa M. Hendey is the founder of CatholicMom.com, a bestselling author and an international speaker. A frequent radio and television guest, Hendey travels internationally giving workshops on faith, family, and communications. Visit Lisa at LisaHendey.com or on social media @LisaHendey for information on her speaking schedule or to invite her to visit your group, parish, school or organization. Visit Lisa's author page on Amazon.com.