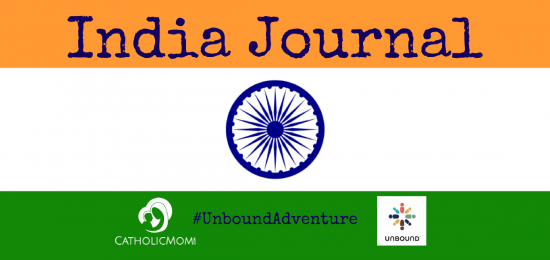 To enjoy all of my India Journal entries and travel with me and Unbound, click here.
This special day in India began with dosas and dressing. The night prior, each of us were given a slim package containing the parts of our beautiful matching sarees. Unbound local staff informed us to put on the blouse and underskirt and to call the front desk when we were ready to be dressed. I puzzled a bit at this - the team here are so very welcoming, but dressing us?
Now I know why this was part of the plan! After breakfast, two precious team members swept into my room and performed a dance of folding, winding and pinning that left me transformed! The gifted me lovely costume jewelry and placed a bindi (small maroon dot) between my eyes. In our case, the bindi was worn purely as a decorative touch signifying the special celebration we were about to join.
Walking in a saree is an acquired skill. I now understand why women ride sidesaddle on the back of motorcycles and avoid staircases! But once I began trusting that I had been properly wound and would not fall apart, I LOVED dressing in my saree. I felt both elegant in the soft flowing fabric and cool against the pounding humidity of the city. I don't know that I will ever be able to recreate the fashion at home without help, but my gifted saree will be a precious reminder of this day and the womanly way I felt in my attire.
Once attired and assembled, our crew of sponsors (dressed in matching clothing) were swept away to "Urchagam", a celebration of love and gratitude for the sponsors held for us by the sponsored children and mothers groups of Chennai. As we entered the building, we were greeted by children who handed us large bouquets of roses, placed floral garlands around our necks and held our hands as we were blessed in a welcoming procession.
The children light up in these types of settings - they are so very happy for any contact with the sponsors who have contributed to their education and wellbeing. Most of them will never have the chance to meet their sponsor in person. For them, we Westerners, dressed in their best attire and coming to celebrate their accomplishments, represent hope. For us, who have traveled so far to witness the work done by Unbound, these children confirm the many reasons we have chosen to make small sacrifices in our own lives to support a family half a world away.
Over the next several hours, the celebration unfolded. I did a bit of livestreaming to share the cavalcade of song and dance and expression. As I learned in the Philippines last year, Unbound participants are creative and talented!
After many beautiful performances of both traditional and modern song and dance, we heard from four successful Unbound graduates. During the banquet that followed, I had the opportunity to sit with two of these young men. One a devoted teacher, his friend an engineer, both spoke in such a heartfelt way about the families who had been their sponsors. They told me about their schooling, their careers and their hopes for the future. Once again, I was reminded that the small gifts we sponsors give have a truly life-changing role in the lives of the sponsored children. For many of them, they are the first in their families to achieve an education and to pursue a meaningful career. On them rest the hopes of their parents for a better life for the whole family. It's simply impossible to express how clearly our gifts as sponsors help, but this is largely because those gifts come in the context of a well-coordinated program that addresses the holistic needs of the sponsored child. Their poise, confidence, intelligence and desire to help those who come after them leaves me speechless. No wonder their are so many children on the waiting list to join the program here!
After sad goodbyes, we were off to our next two destinations: a local shopping mall bustling with commerce and the Santhome Basilica, a sweeping gothic place of worship built over the tomb of St. Thomas. In the crypt of the Church, I prayed for all of the sponsors who have blessed these families as well as for the children in the program here in Chennai. Their brightness and sincere compassion leaves me so filled with hope!
It's almost time for Mass, so I will sign off now, anxious to see what adventures will come next!
Be sure to watch here on the blog for my India Journal entries and follow me on Facebook, Twitter and Instagram to experience the fun. I'll be using the hashtag #UnboundAdventure while on the trip. If you have tips for me, questions about this mission or Unbound or simply want to come along on the adventure, be sure to drop me a comment, tweet or message!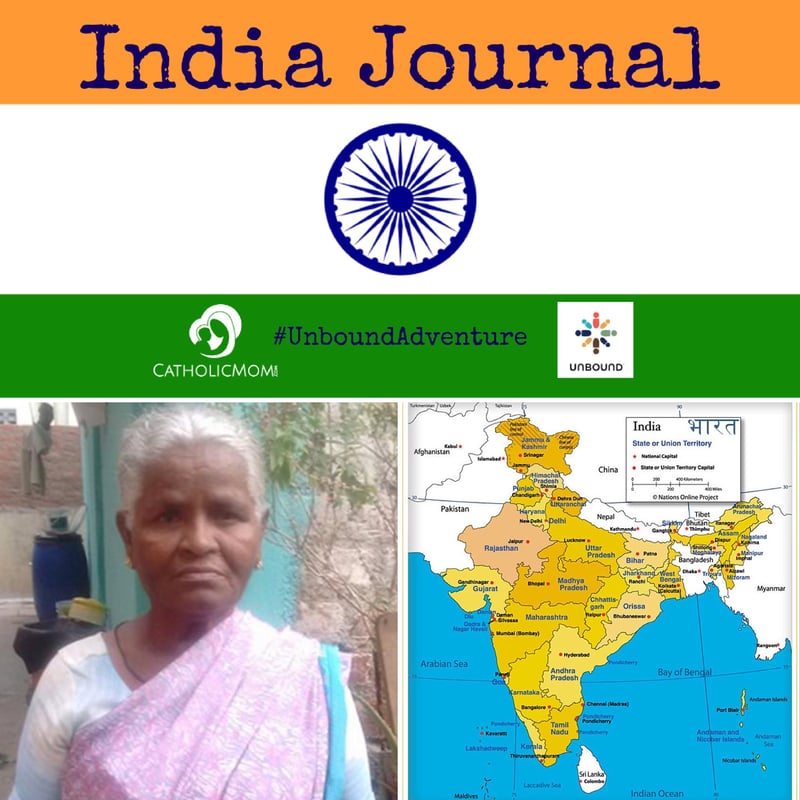 My patron saints for this journey will be the patrons of India: St. Thomas--called "Apostle of India"--who built India's first church, St. Francis Xavier, Jesuit missionary to India, and our Blessed Mother in her titles of Our Lady of the Assumption, Our Lady of Bandel and Our Lady of Bandra. Please join me in praying for Our Lady's intercession in the work of Unbound and for the wisdom and example of Saints Thomas and Francis in understanding how the Good News of Christ's gospel calls me to be a servant in our world.
For More Information:
Copyright 2017 Lisa M. Hendey
About the Author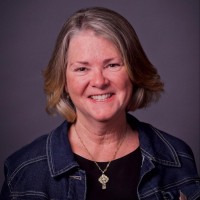 Lisa M. Hendey is the founder of CatholicMom.com, a bestselling author and an international speaker. A frequent radio and television guest, Hendey travels internationally giving workshops on faith, family, and communications. Visit Lisa at LisaHendey.com or on social media @LisaHendey for information on her speaking schedule or to invite her to visit your group, parish, school or organization. Visit Lisa's author page on Amazon.com.