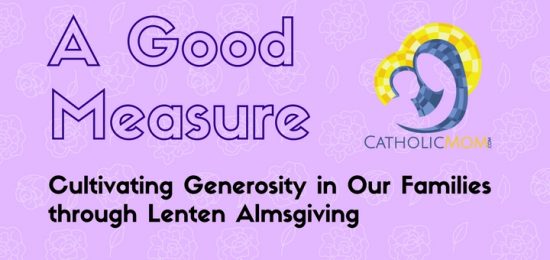 The gospel passage for tomorrow morning (Monday of the Second Week in Lent) is one of my all time favorites. Although only two verses from Luke's sixth chapter will be read during daily Mass, for me they pack a powerful emotional punch:
Jesus said to his disciples:
"Be merciful, just as your Father is merciful.
"Stop judging and you will not be judged.
Stop condemning and you will not be condemned.
Forgive and you will be forgiven.
Give and gifts will be given to you;
a good measure, packed together, shaken down, and overflowing,
will be poured into your lap.
For the measure with which you measure
will in return be measured out to you."
Delivered by Jesus during the "Sermon on the Plain", these powerful words provide a beautiful context for those of us in Catholic families to consider the fruits of our Lenten almsgiving practices and how we might beautifully teach our children the virtue of generosity during these forty days so that we learn to live generously every day.
A Good Measure
My work in Catholic schools, parishes and homeschooling groups this year with Chime Travelers has renewed in my heart a conviction that our children inherently understand generosity. Ask any second or third grader for examples of generous living, and they will enthusiastically offer a cavalcade of ways in which they desire to give of themselves to the world around them.
When I challenge the students to think about how they personally might act as givers, they are quick to suggest that by doing extra chores, recycling goods, or even by small entrepreneurial efforts they might earn extra funds to give to those in need. Their precious hearts are always so open to how they might help. They seem to lack some of the practical excuses that we, their grown ups, can offer when we feel too financially burdened to see the needs of others. I often leave my visits with children praying to renew my own spirit of generosity so that it might mirror the examples the kids give me.
Lenten Almsgiving and Us
Lent is the perfect season for those of us who are journeying toward the joy of Easter to renew in our hearts and in our homes a commitment to generous living. I thought as a way of opening the conversation, I might once again remind you of two of my favorite forms of almsgiving and invite you to share yours in the combox below. Our family is blessed to have participated for the last few years in these two Catholic-oriented charities, but I would love to learn from you about your favorites.
Rice Bowl has evolved far beyond that little cardboard box that sits in the middle of our kitchen table. A visit to the Rice Bowl website provides our families lenten calendars, meal ideas that emanate from the areas of the world served by our donations, prayer resources including stations of the cross, printable activities and much more. Whether you give through the traditional box or via the mobile app, a portion of your Rice Bowl giving goes back to your home diocese to be used for Catholic charities in your own community.
As I've shared regularly here at the blog, being an Unbound sponsor family has blessed us in so many ways. By journeying with our two sponsored friends--a child in the Philippines and an elder in India--we live in friendship and solidarity with other families like ours. The small financial contribution we make each month goes directly to our sponsored friends. In exchange, our family has been so blessed by their prayers, our active correspondence and the opportunity to learn more about the culture and lifestyle of those in other parts of the world. If you are unable to be a sponsor on an ongoing basis, a one time targeted donation to one of the 19 countries served by Unbound gives your family a beautiful way to walk in companionship with other families around the world.
Think Outside the Box
During the remaining weeks of Lent, we parents have the perfect opportunity to model for our children the type of mercy to which Jesus calls us in Luke's gospel. Tonight is the perfect opportunity to read together the passage above, to pray about what "a good measure" means form your family, and to ponder together creative ways for you to prayerfully fast and give alms this Lent. If you've come up with something special, if your parish has an innovative giving strategy or if you've simply been inspired by the compassion of your own children, please share this goodness in the comments below.
Together, we have the ability to know the great abundance of grace just waiting for us by sharing our hearts with those in need. What begins this Lent has the ability to revolutionize our hearts and our world all year long.
Copyright 2017 Lisa M. Hendey
About the Author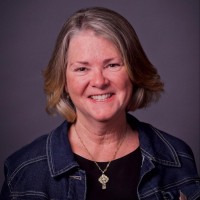 Lisa M. Hendey is the founder of CatholicMom.com, a bestselling author and an international speaker. A frequent radio and television guest, Hendey travels internationally giving workshops on faith, family, and communications. Visit Lisa at LisaHendey.com or on social media @LisaHendey for information on her speaking schedule or to invite her to visit your group, parish, school or organization. Visit Lisa's author page on Amazon.com.