Look at that, it's Lent again! Every year it creeps up on me a bit. Indeed, I look forward to it each year as an opportunity to try new things out in my spiritual routine, and generally to give my interior life a boost. I enjoy the preparation time to plan out what I'll choose each year, and how I will go about keeping up with it all for the duration of Lent.
This year, I decided to pick a theme. That sounds very ambitious and exciting, to be sure. My theme, though, is Simplicity. I have some ideas that I'm hoping will not prove overly difficult to manage with my other time commitments. Importantly, I have goals set, but I also have a straightforward mindset about the whole Lenten experience. If I find that I cannot keep up with one particular item, I'm going to go easy on myself so long as I keep to the others. It's all about balance and perspective, and keeping our eyes focused on Our Lord and our faith.
I'm currently reading a book about St. Francis de Sales's simple approach to holiness called Live Today Well. I have been tremendously inspired by this book, and plan to adopt a few of the practical suggestions into my Lenten path. I think this ties the theme of simplicity together quite nicely.
[tweet "Need a plan to get back on the #Lent wagon? @CatholicTiffany has ideas."]
So this is my Lenten plan. Lent started about a week and a half ago, but if you're searching for different ideas, or haven't gotten settled into a plan yet, please join me! It's never too late to start a Lenten journey. I know this from falling off the Lenten wagon many times!
(1) Morning offering – In Live Today Well, I read about St. Francis de Sales' suggestion that everyone should pray upon first rising from bed, in thanksgiving for the gift of life each day. He explains it as a symbol of the resurrection that we wake up each morning. That certainly changes one's perspective about the morning alarm, doesn't it? St. Francis suggests a simple morning offering, a short invocation for God's help during our day or a prayer that we already have committed to memory, like the Our Father. This is an easy addition to the routine, but keeping to it *every single morning* is what makes it more of a Lenten goal.
I would like to incorporate this particular goal into the Lenten sacrifice part of the season as well. I have a difficult time getting out of bed in the morning before work. I'm going to sacrifice giving myself that extra five minutes to lie there under the warm covers, and get out of bed to pray instead. St. Francis de Sales advises us to take a three pronged approach to everything we do in our day: (1) Ask for God's help, (2) Offer it up for His greater Will, whatever that may be, and (3) Accept whatever the result is. This applies to taking that first step out of bed in the morning to pray, as well as to challenges that will inevitably arise during the course of our daily responsibilities.
(2) Daily Mass once per week – I love daily Mass. Before I was married and had children, I used to go nearly every morning. Now? Between rushing both kids off to school, and getting to work myself by 8:30, it simply hasn't happened for years. My parish, however, recently added a 5:30 pm daily Mass on Thursdays. After work, if I manage to remember and organize a crock pot dinner, this is a very reasonable goal. For Lent, I'd like to make it every week. Daily Mass brings a peace to my day that is unparalleled, and I'm hoping that this simple weekly add-in will transform my Lenten experience.
(3) One small Lenten devotional – I'm a librarian. This translates to me getting a bit carried away each year selecting and purchasing Lenten devotionals for my home library. This year, I decided to keep it to a single, small volume, and I chose Sacred Reading for Lent 2017. If I forget to read this every day, I'll just keep at it when I can. Hope springs eternal! This devotional is small enough to tuck into your purse, and is easy to take out when you have a few minutes to yourself, or are waiting in line.
Those are my Lenten aspirations. What are yours? I'd love to hear all about them in the comments!
Copyright 2017 Tiffany Walsh
About the Author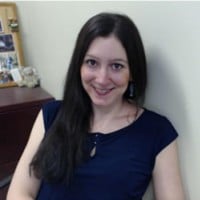 Tiffany Walsh is a wife and mother, a native western New Yorker, and a college librarian. She is a cradle Catholic who rekindled her childhood faith as a graduate student via her love of books, and is the author of Exploring the Catholic Classics, part of the Stay Connected Journals for Catholic Women series. She enjoys writing about faith, crafting, dance, fitness and wellness. Visit her blog at Life of a Catholic Librarian.