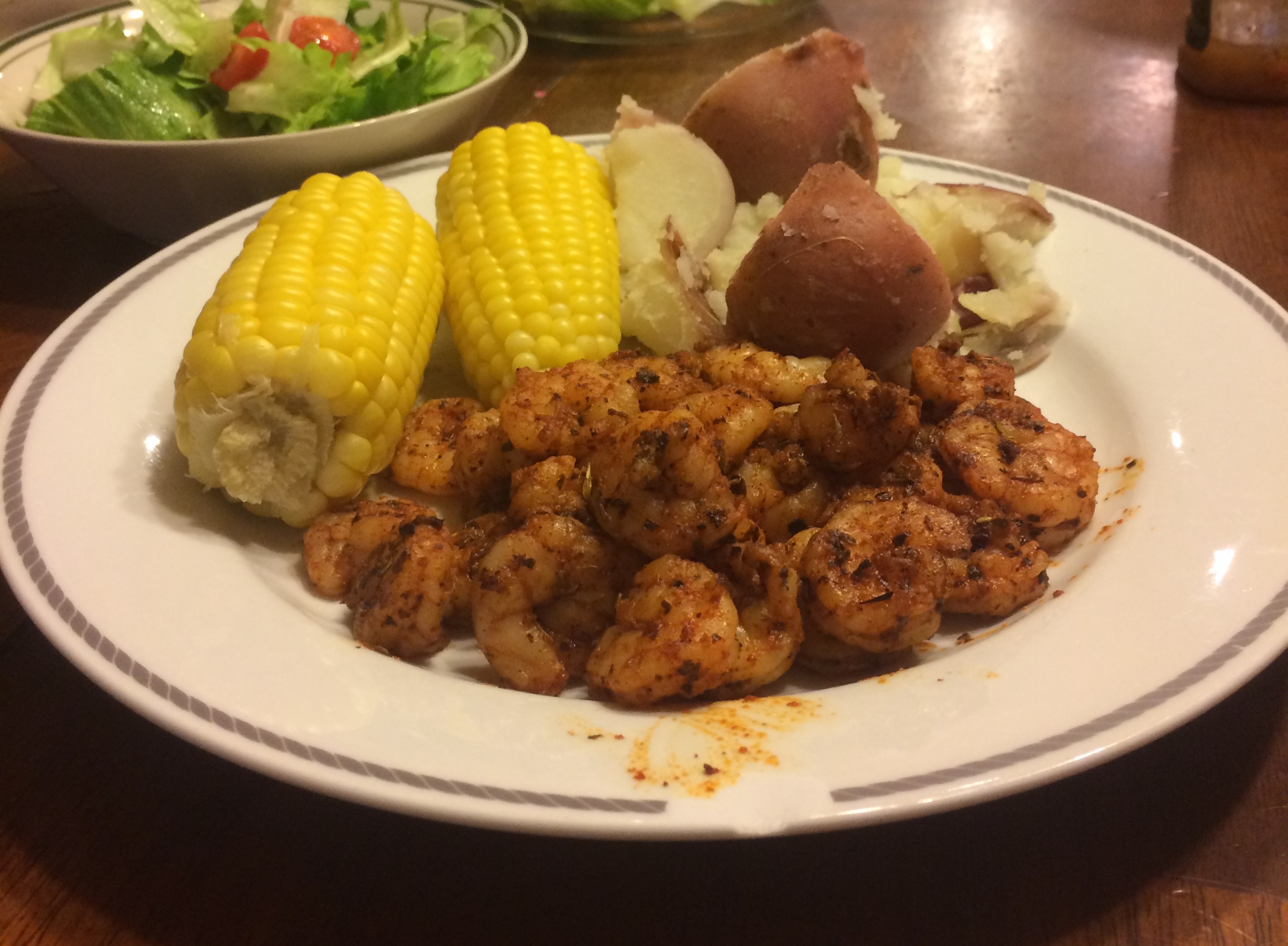 "Blackened" is a traditional Cajun cooking technique that refers to coating something (usually seafood) in a spice mixture until it appears "black." Nothing gets burned. I promise.
Blackened Shrimp or Catfish
2 lbs. fresh shrimp, peeled and deveined or 2 lbs. fresh catfish fillets (or 1 lb. of each!)
About 4 tbs. butter, melted
Note: If you're using frozen seafood, make sure it's completely thawed. But it's better to buy it fresh.
Spice mixture:
2 tbs. paprika
1 or 1 ½ tsp. salt (depending on taste)
1 tsp. (or more) freshly grated lemon zest
¼ tsp. garlic powder
½ tsp. ground black pepper
1 ½ tsp. dried basil
1 tsp. dried thyme
¼ tsp. ground red (cayenne) pepper
Heat a heavy cast iron or aluminum skillet over high heat for 10 minutes.
Stir together all ingredients for the spice mixture in a small bowl.
For shrimp, place them in a large Ziploc bag and pour the melted butter over them, then mix to coat. For catfish, lay them flat and drizzle butter over both sides of each fillet, enough to make the spice rub stick.
For shrimp, add the spice mixture to the bag and use your hand to stir and coat them all. For catfish, coat both sides of each fillet with spice mixture, about 1 tbs. per fillet. Rub lightly to press the mixture into the fish.
Add to the skillet and cook over high heat. For shrimp, cook about 3-4 minutes, stirring frequently, until they are pink all the way through. For catfish, cook fillets several minutes on each side until the fish flakes easily with a fork. Actual cooking time will vary based on the size and thickness of the fillets. If they start to stick, melt more butter directly into the pan.
Serve immediately. Recommended side dishes: mashed, baked, or boiled potatoes; fresh corn; and green salad.
If you're feeling really adventurous, blackened alligator is delicious, too — and a few years ago, the Archbishop of New Orleans certified it as "seafood" for purposes of meatless Fridays!
Enjoy!
What's cooking? Find all our Meatless Friday featured recipes here.
---
Copyright 2017 Karen Ullo
Photo copyright 2017 Karen Ullo, all rights reserved.
About the Author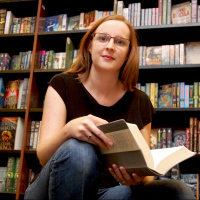 Karen Ullo is the author of two award-winning novels, Jennifer the Damned and Cinder Allia. She is one of the founding editors of Chrism Press, which is dedicated to publishing Catholic and Orthodox fiction, and the former managing editor of the Catholic literary journal Dappled Things. She's also a wife and mother of two. Find out more at KarenUllo.com.