Flávia Ghelardi writes from Brazil in English and Portuguese. Jump to the English version of this post.
Essa pergunta deveria sempre inquietar nossos corações, não no sentido de queremos controlar os pensamentos e ações de nossos filhos, mas para avaliarmos se realmente estamos cumprindo nossa tarefa como verdadeiros educadores.
Sabemos que a influência do mundo na vida deles é muito grande, então é imprescindível que nos preocupemos sempre em verificar como ele estão se posicionando frente aos vários desafios do dia a dia, mesmo se ainda são pequenos. Podemos pensar que por conviverem conosco em um lar católico, frequentarem a Igreja, eles "automaticamente" sabem se posicionar sobre o que acreditamos ser certo ou errado, de acordo com nossa fé.
Uma família católica praticante testemunha que foram surpreendidos, um tempo atrás, em uma conversa com o filho de 14 anos em que ele não via qualquer problema em incentivar um relacionamento homossexual entre amigos da sua idade. Depois do choque inicial (que tentaram não demonstrar), começaram a questionar o porquê ele pensava daquela forma e a resposta foi: "Ué, não pode? Mas não é amor? Qual o problema?"
Eles perceberam que o filho genuinamente não entendia a razão dos pais não apoiarem um relacionamento homossexual; não era aquela questão de adolescente querer enfrentar a opinião dos pais. Simplesmente o meio em que ele vive, mesmo em uma escola católica, vê tudo isso com muita normalidade. Então, os pais começaram a explicar o que significava realmente o amor humano, quais são as suas características, o que cada um deve buscar em um relacionamento e o que deve oferecer.
Esse testemunho nos fez começar a checar também os nossos filhos, mesmo os mais novos, algumas outras questões além do homossexualismo, como o papel do homem e da mulher na família, a indissolubilidade do matrimônio, como devemos lidar com os nossos bens e com o dinheiro, qual a importância da fé e da prática da religião em nossas vidas, enfim, tudo aquilo que muitas vezes nos preocupamos em ensinar para as outras famílias em nossas diversas formas de apostolado e que não estávamos nos preocupando muito em verificar dentro de nossa própria casa.
Claro que não foi tudo de uma vez e também usamos numa linguagem apropriada para a idade deles e esse trabalho está apenas começando! Então nosso alerta aqui fica para todos: saibam o que eles pensam e o que eles fazem. Não se assustem com as respostas, se preparem para contestá-las se for necessário, COM MUITO FUNDAMENTO, não adianta falar que é assim porque a Igreja manda. Hoje temos a nossa disposição uma enormidade de material que explica as razões da fé e dos ideais que professamos, e também devemos procurar o apoio de outras famílias que pensam como nós, para nos apoiarmos e trocarmos experiências.
Uma última questão: sabemos que já erramos muito como pais e ainda erraremos mais. Consagramos nossos filhos a nossa Mãe e Rainha e confiamos que ela fará o que não conseguimos. Mas entre a nossa miséria e o milagre da graça da educação pelas mãos de Maria, podemos fazer muito. Não devemos nos conformar com o que diz o mundo, principalmente no tocante a sexualidade, que a castidade é uma utopia, que usar contraceptivos é normal, mesmo se já forem casados. Não é. Se estão vivendo essa dimensão de sua vida de forma equivocada, CABE A NÓS PAIS mostrar a eles toda a beleza da doutrina da Igreja a esse respeito. E que não é apenas uma questão relacionada a religião, mas ao BEM ESTAR FÍSICO E EMOCIONAL deles. Não tenham medo de mostrar a verdade. Se estiverem inseguros, busquem mais conhecimento, mais argumentos. A felicidade deles e, mais ainda, a salvação de suas almas, depende disso!
What do our children think and do?
This question should trouble our hearts, not in a way that we want to control the thoughts and actions of our children, but to evaluate if we are really fulfilling our task as true educators.
We know that the world has great influence on them, so it is indispensable that we always care to check how they are positioning themselves facing the challenges of daily life, even when they are young. We may think that since they live with us in a Catholic home and go to church, they "automatically" know how to position themselves about what we believe it is right or wrong, in accordance with our faith.
One Catholic family testified that they were surprised, a while ago, in a conversation with their 14-year-old son, to discover that he couldn't see any problem in encouraging a homosexual relationship among his friends. After the initial shock (that they tried not to show), they began to ask him why he thought that way, and the answer was, "What? They can't? But isn't it love? What's the problem?"
They realized that their son genuinely didn't understand the reason his parents didn't support a homosexual relationship. Simply, the environment that he lives in sees all that with great normality. So the parents started to explain what human love really means, what its characteristics are, what each one should seek in a relationship and what one should offer.
This testimony made us start to check also with our kids, even the youngest, some questions beyond homosexuality, such as the role of the man and the woman in the family, the indissolubility of marriage, how we should deal with our assets and money, the importance of the faith and religious practice in our lives. Ultimately, everything that many times we were concerned enough to teach other families in our apostolate, we weren't worried enough to check inside our home.
Of course it wasn't everything at once and we also used an appropriate language for their ages; this work is just starting! So, my alert here is to everyone: do know what your children think and do. Don't frighten then with the answers, be prepared to contest them if necessary, WITH A SOLID BASE. It's pointless to say that things are like that because the Church says so. Today we have at our disposal a huge amount of material that explains the reasons of our faith and the ideals we profess, and we should also look for the support of other families that think like us, so we can exchange experiences.
[tweet "Parents shouldn't conform ourselves with what the world tell us. Our children need #faith."]
One last issue: we know that we made many mistakes as parents and we will make more. We consecrate our children to Our Lady and we trust she would do what we can't. But between our misery and the miracle of the grace of education through the Mary's hand, we can do a lot. We shouldn't conform ourselves with what the world tell us, especially concerned to sexuality, that chastity is utopic, that using contraception is normal, even if our children are already married. It is not. If they are living this dimension of their lives in a wrong way, IT IS UP TO US PARENTS to show them all the beauty of the Church's teachings about that. And this is a matter not only related to religion, but to their PHYSICAL AND EMOTIONAL WELL BEING.
Do not be afraid to show the truth. If you are insecure, search for more knowledge, more arguments. Their happiness and, even more, the salvation of their souls depend on that!
Copyright 2017 Flávia Ghelardi
About the Author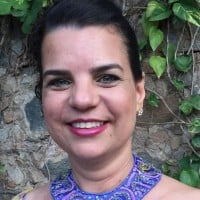 Flávia Ghelardi is the mom of four, a former lawyer already "promoted" to full time mom. Flávia published her first book FORTALECENDO SUA FAMÍLIA and is a member of Schoenstatt´s Apostolic Movement. Flávia loves to speak about motherhood and the important role of women, as desired by God, for our society. She blogs at www.fortalecendosuafamilia.blogspot.com.