Everyone has their own idea of what Lent is all about. Lent might be giving up the chocolate and the sweets during the 40 days or it could be about taking out those 40 bags of stuff that's been accumulating over the years.
Lent could also mean service to others, or more intensive prayer time in front of the Blessed Sacrament. Maybe it's about reading something more meaningful like a Catholic classic.
Actually the only thing Lent is about is forgiveness.
[tweet "The only thing Lent is about is forgiveness. By @CatholicReally"]
On Ash Wednesday I found this quote in my Magnificat:
"Forgiveness does not overlook the deed: it rises above it. 'This is what it means to be human,' it says. "I cannot and will not return the evil you inflicted on me." And that is the victim's triumph." - Pumla Gobodo-Madikizela, author of "A Human Being Died That Night: A South African Story of Forgiveness"
This quote made me realize that I am indeed human, that I have risen above the deed and triumphed! How did this happen?
Without my knowing, grace crept up and covered me over the years since my conversion. Each year that I struggled, another layer of anger or pain was peeled away. My victimhood got farther into my past until those memories became something I would occasionally relate to someone else and not something that I was continually reliving. What I had waited for all my life finally happened!
Lent can be a struggle, but all those struggles can add up. As grace gently finds its way to you, meet it halfway, rise above the deed and triumph!
What struggles with forgiveness do you have? Have you risen above a circumstance and was able to forgive? How did this affect your spiritual life?
Copyright 2017 Pam Spano
About the Author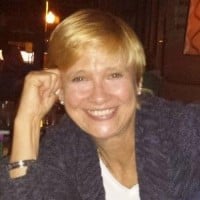 Pam Spano converted to the Catholic faith as an adult over 30 years ago. Her conversion story started when she sarcastically said to her Catholic boyfriend at the time, "I suppose if we were to get married, you would want me to convert." He thought for a moment and said, "Well, I am worried about your soul." And so the journey began ...