Lent is in full swing and I have been intentional about making time to pray. Well, I have been trying to be, anyway. Being a mom to two-year-old twins and a seven-year-old in elementary school while also working full-time outside the home means most days I am just going through the motions. And what is the first thing to get cut when time is running low? Prayer. Unfortunately.
There is no time.
I can't think of anything to say.
I am just so tired.
[tweet "5 ways to pray when you're short on time, low on sleep, and heavy on stress."]
I get it. I have been there. But excuses are still just excuses, even when they are good ones. Here are 5 ways I pray when I am short on time, low on sleep, and heavy on the stress (so really, all the time):
Devotionals.
This is one of my favorite ways to start the day. I get a few cherished moments to myself each morning before the kids get up and I love to start my day with my coffee and a devotional. Right now I am reading our very own Lisa Hendey's The Catholic Mom's Prayer Companion. Somehow, the reading for each day is always exactly what I need to start off my day calm, refreshed, with God at the forefront.
Make Your Work Prayer.
Because we mamas love us some multi-tasking, do we not? It's the only way to get to all the things. Someone in a Facebook group I am in shared that she likes to pray for her family while she is doing household chores. So as you are folding your husband's work shirt or your son's jeans, etc., say a little prayer for them. I really like to sanctify my workday by listening to the Rosary on YouTube. Bonus points for listening to the Latin Chant version. Over and over again. The whole day. I might have done that last week. Hey--I can now pray the Hail Mary in Latin!
The Liturgy of the Hours.
I know what you are thinking. I said I was going to help busy moms squeeze in prayer and the Liturgy of the Hours doesn't really fit that bill. But when my brain is tired and I need a good, prayerful recharge there is nothing as simple as turning to the rich beauty of these traditional prayers. And no one said you had to pray them all. I am particularly fond of Lauds, or Morning Prayer, and Compline, or Evening Prayer to bookend my day. You can download the Laudate app or the iBreviary app. I also like to go to the Universalis site and find the Liturgy of the Hours there.
The Angelus.
The Angelus is a beautiful prayer that is said traditionally at 6am, 12pm and 6pm as way to infuse all parts of the workday with prayer. The idea is to intentionally devote each part of your day to God. To consecrate your work, if you will.
As an aside: Michele Faehnle and I have a Facebook book club, St .Teresa Book Club, that will be reading Jared Dees' newest book Praying The Angelus after Easter. Join our group, get your copy of the book, and join us! I have been feeling called to make the Angelus a regular part of my daily prayer and looking forward to what is sure to be a fruitful book club experience.
Silence.
Sometimes, it is really that simple. Maybe you are having difficulty with prayer because you are doing too much talking and not enough listening? I am an introvert so silence is something I never get enough of, and even I have a hard time with silent prayer. My mind fills with tasks left undone, laundry unfolded, dishes unwashed, projects at work, school activities. It takes a lot of effort. But, as Saint Teresa of Calcutta famously said, "the fruit of silence is prayer."
How do you fit prayer into your daily routine?
Copyright 2017 Amanda Torres
About the Author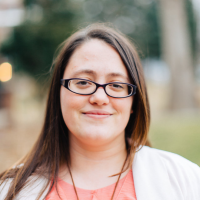 Amanda Torres is a Catholic convert, wife, and working mom from St Paul, MN. She is making great use of her Bachelor's Degree in History and Anthropology as a Management Analyst for the State of Minnesota. When she is not busy trying to get her husband, her rambunctious 7 year-old, and toddler twins into Heaven she enjoys reading, writing, and drinking coffee with entirely too much creamer. Amanda also occasionally blogs at In Earthen Vessels: HoldThisTreasureInEarthenVessels.wordpress.com