Editor's Note: this is the first article in a two-part series about CatholicTeenBooks.com, a new website designed to help teenagers and their parents and teachers choose quality contemporary reading material. Don't miss Lisa Hess's follow-up piece, written from the perspective of a mom blessed with a voracious and advanced reader. --Barb
I've been homeschooling for a long time now. My older daughter is preparing to graduate from high school, and my younger daughter is wrapping up her sophomore year of high school. But I'm still active in our local homeschool co-op, and that sometimes involves teaching younger kids in subjects that, if I were in high school, I'd say were my best subjects. Some years, it's sign language. Other years, it's religion. (This year, that's the case - I'm teaching three religion classes!) Other years, I've done classes in language arts.
Parents who choose to homeschool their children tend to be picky about reading materials that their kids pick up. This isn't to say that parents whose children go to brick-and-mortar schools aren't picky, but when you homeschool and are in charge of your children's education as a whole, it's a different level. Often, we homeschooling parents ask other parents with similar values about potential reading materials and authors. Other times, we are stuck trying to research books to keep up with our kids. And it's difficult to get a good parent guide that reflects our Catholic values. These days, I'm actually one of the Veteran Homeschool Moms who's giving advice to other parents at the co-op. When it comes to fun reading, where can we turn for something safe, yet interesting?
[tweet "New website guides parents, teens, teachers in contemporary #book selection. By @CatholicMomVA"]
Enter Catholic Teen Books! This new and growing site is a place to find interesting young adult fiction that a homeschooling parent can use to reinforce lessons, as well as a place to turn for downtime reading. There are historical fiction selections, books on saints, and mysteries that can be tied into other lessons on morality and ethics. For teens like my own, who have a heavy load of classic literature in their curriculum, having a place to go for exciting fiction that I know won't undermine their faith is a nice bonus. (My own girls have read several of the books on the website already, and really enjoyed them.) Other categories on the site are Speculative (for spiritual questions), contemporary, and dystopian, which might be one of the most popular genres for young adults right now. Every one of the categories can be used in a homeschool classroom, especially if you discuss decision-making, peer pressure, and Christian morality applied in real-life situations.
The site is just getting started, but I see amazing potential for it, and I'm looking forward to seeing more authors join the site. So far, there are almost a dozen different authors contributing and offering their books. I definitely suggest checking it out, and keeping an eye on the site for new releases and authors!
Read more of our Tech Talk columns.
Copyright 2017 Christine Johnson
About the Author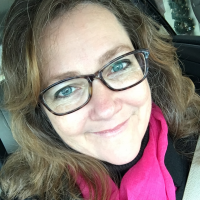 Christine Johnson has been married to Nathan since 1993 and is the mother of two homeschool graduates. She and Nathan live in the Blue Ridge Mountains of Southwest Virginia, where she tries to fit in as a transplanted Yank. She blogs at Domestic Vocation about her life as a wife, mother, and Lay Dominican.