Welcome to this month's installment of Small Business Strategies! Our guest is Lindsay Trezza of Just Love Prints, a beautiful shop where you'll find Catholic Christian gifts and home decor. Her mission is to help others grasp God's love in a tangible way using imagery, words, and art - and she is here to share her experiences on the importance of networking.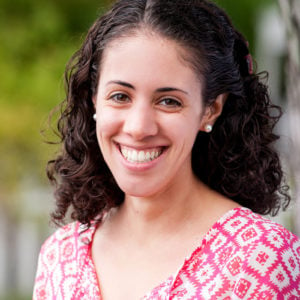 [tweet "The importance of networking: @faithandfabric interviews graphic artist Lindsay Trezza"]

Last year, I decided to leave my full time graphic design job and become my own boss. I'm typically one to just go with the flow, so this was a scary leap for me. But I trusted that God had something greater in store. To make this dream happen, I started two different companies: at the first, I create Catholic artwork and decor for families; at the second, I work with businesses and individuals on graphic design projects from my home studio.
I left my job knowing full well that I would need to hustle and network if I expected to support my family. The following are some networking tips that I've found useful in my own experience. I hope that you find them helpful too!
1) Reach out to everyone you know—multiple times per year
Businesses should "touch" each friend, client, or potential client a certain number of times per year. A touch is a gesture that basically reminds your contact that you're still in business and would love to work with them. Some examples include writing a thank-you note, sending a hello email, mailing a card on their birthday, or grabbing coffee.
2) Attend local networking meetings
Find local networking groups near you. Most groups have a monthly or yearly fee, but some allow you to attend meetings as a "trial." I've learned a lot just from attending a handful of trial meetings and have even gained several clients by attending! Check out Business Networking International, MasterMind Groups, Women In Business Networking, or your local Chamber of Commerce. to name a few!
3) Be present on Facebook
Although it's important to make regular posts on your Facebook business page, try making connections in other areas as well. For example, Blessed is She has Facebook groups for different areas of the country, and every Tuesday is "Bulletin Tuesday" where you can post business or blog-related bits.
No matter what your niche is, you'll be able to find a Facebook community for your specific area of expertise! For example, I recently joined a freelance graphic designer group on Facebook and have enjoyed learning from other designers. Last week, I was having computer trouble. I posted my specific issue in the group, and dozens of fellow designers flocked to my aid with troubleshooting tips. I was so grateful!
You should also check to see if your town or church has a Facebook page where local businesses can post information and promos.
4) Be present on Instagram
My Instagram account is one of my favorite networking tools! I love discovering new accounts, businesses, and connecting with other people. It's such a unique platform in that it allows you to connect with others on a more personal level. I've connected with hundreds of great people, and several opportunities have opened up due to these interactions! It's nice to be able to support one another not just in a business sense, but as fellow Catholic Christians.
5) Sign up for a Craft fair
If you own a creative business, sign up for a craft fair. Even if it's the only one you ever participate in, you'll gain valuable insights from the customers you interact with. It's a great way to meet new people and converse with customers face to face.
6) Volunteer your time and talents.
Volunteer at your church or local soup kitchen. Getting out and meeting others while giving of your time and talents will help you gain a fresh perspective on life. Plus, it feels good when we help our fellow brothers and sisters in Christ. It's a win-win!
7) Have your "elevator pitch" ready
If someone were to step into an elevator with you and asked, "What do you do? What's your business about?" You should have a quick 1- to 3-sentence pitch about your business ready to go. Having a clear understanding of what you do and what makes your business special is crucial to the success of your business.
8) Collaborate
Do you have a handful of blogs that you follow? Reach out to a few to see if they'd be willing to feature your business or one of your items in a post. Some bloggers have a fee system, but some will write a post for free, but perhaps in exchange for a product, etc.
Are there a few businesses you've had your eye on? Do you admire their work? Try reaching out and asking if they'd be willing to collaborate with you. Perhaps you could both host a combined giveaway, give one another a "shout-out" or write a review of one another's products.
9) Keep loved ones in the loop!
Keep your friends and family up to date on your business milestones—you can even do this on your personal Facebook page. It can be as simple as posting "I just added a new item to my shop!" Or, "I loved working on this logo for this client." It helps keep your loved ones in the loop by reminding them that your business is alive and kicking. Plus, when your business is fresh in their minds, they can more easily refer you to a friend they come in contact with who may need your services.
10) Don't be afraid to put yourself out there!
A few years ago I was searching for a full-time job. I wanted to design Catholic content, but all of my job searches were coming up short. I decided to take matters into my own hands and send my resume to every Catholic organization in the area even though none of them were hiring.
None of them responded.
I eventually landed a job that I really enjoyed – it wasn't a Catholic company, but it was still fulfilling. Two years later I received an email from one of the Catholic organizations I had reached out to. They wanted to hire me as a freelance designer for a special project they were starting. It was such a pleasant surprise!
I hope these tips have helped you to get a fresh outlook on your networking game plan and will kick start some amazing opportunities for your business in the new year!
Copyright 2017 Jen Frost
About the Author