It's Holy Week, which is my favorite week of the entire year. All of the fantastic liturgies and special prayers have the heart of this Catholic nerd fluttering. As we approach our celebration of the Resurrection, I think of several things: the end to my Lenten devotions and the things that I "gave up," the beauty and relief of Easter morning, the hope that our faith in Christ provides, AND an undeniable sense of community. That last one doesn't seem to fit with the others at first glance, so let me explain.
As a child, I had never attended the Easter Vigil Mass. We always attended Mass on Easter morning as a family, which I still love and continue to do. But as an adult, I was curious a few years ago about the Vigil Mass, and attended that liturgy by myself as an addition to our family's Easter morning plans. That experience changed the way I see my faith, and I have gone without fail to every Easter Vigil Mass since.
[tweet "Why the #EasterVigil changed @CatholicTiffany's faith."]
I am always by myself at the Easter Vigil because my family prefers to attend Easter morning. So I go alone, but I am NEVER truly alone. When the Easter Vigil Mass begins with the lighting of the fire, and everyone lights their little taper candle from this flame and the dark church fill with light . . . I think of ALL of my friends around the world. Those attending the Vigil are all doing the exact same thing on this night. When I hold that candle and sing the Exsultet, I feel closer to them than at any other time. Some of these are friends I know online, and have never met in person! But in the light of the Resurrection, we are all united. Receiving the Eucharist at the Easter Vigil feels extra special because we have been deprived of it for a few days. And when I go up to receive, the entire community of believers is with me. I know that this is true every Sunday of the year, but the symbolism present at the Easter Vigil really drives this point home for me.
A good friend of mine makes rosaries that she sells in an Etsy shop. I have, we'll just say, MANY of the results of her beautiful work. Last year, she made the same St. Rose of Lima rosary for me and for my best friend Cristina. She also made one for herself. I prayed with that rosary for the first time as I waited for the Easter Vigil Mass to start. As I sat there in the darkened church, I felt like they were both sitting right there next to me. The different rituals of the Easter Vigil Mass create such a palpable sense of connectedness and unity. And after the long, dark spell of Lent is over, we appreciate it with such a renewed sense of vigor.
Every Easter I meditate on the joy and beauty of friendship, of how grateful I am that Christ died for our sins, and that I get to spend my earthly life with these women I feel as close to as sisters. It is a gift that I do not deserve, all of it.
What is your favorite Easter liturgy? Do you feel that that Mass is a different experience for you than others during the year? I would love to hear your thoughts in the comments!
Copyright 2017 Tiffany Walsh
About the Author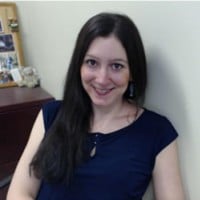 Tiffany Walsh is a wife and mother, a native western New Yorker, and a college librarian. She is a cradle Catholic who rekindled her childhood faith as a graduate student via her love of books, and is the author of Exploring the Catholic Classics, part of the Stay Connected Journals for Catholic Women series. She enjoys writing about faith, crafting, dance, fitness and wellness. Visit her blog at Life of a Catholic Librarian.