"Through all the words of Sacred Scripture, God speaks only one single Word, his one Utterance in whom he expresses himself completely. For this reason, the Church has always venerated the Scriptures as she venerates the Lord's Body. She never ceases to present to the faithful the bread of life, taken from the one table of God's Word and Christ's Body." (CCC 102-103)
The Church presents the liturgy of the Word and the liturgy of the Eucharist together at Holy Mass. We cannot have a complete Mass without one and the other. We need both. And yet, for many Catholics, Sacred Scripture is something we do not know well. We know some of the stories, but we don't open our Bibles to discover what God has to say to us personally. I know I didn't, until I took a yearlong Bible study at my parish 11 years ago.
As I opened my Bible and started reading the Scriptures, I began making connections I never knew existed. The Biblical roots of the Mass and the papacy, for example, jumped out from the pages of the Old and New Testaments. Discovering that the Sunday Gospel and First Reading are often connected helped me experience the Mass more deeply. One of the most important things I remember my Bible teacher, Jeff Cavins, teach us was that the story of Salvation History was our story. It wasn't just something that happened thousands of years ago; it was current and relevant to our lives today. Bible study helped my faith grow, and I discovered a real longing for knowledge and understanding that was found in Sacred Scripture.
But even 11 years later, I still struggle with a regular habit of praying with the Scriptures, which is why I am so grateful for the video on "Growing Closer to God with Scripture" in the new Catholic Conference 4 Women's "Relationships" series by Tami Kiser.
[tweet "Learn to pray with Scripture in @CatholicFC #relationships video. Review by @sarahcdamm"]
In this video, Bible teacher Sonja Corbitt shares how to maintain a thriving relationship with Christ by praying with the Scriptures. She encourages us to use an ancient format called Lectio Divina, which dates back to the Early Church and is a method of prayer that utilizes Scripture to grow in relationship with the Lord.
If we do not know where to begin, Sonja encourages us to follow the daily readings, because then we will be reading with the mind of the Church.
When starting Lectio, it is important to begin with prayer. Ask the Holy Spirit what He wants to say. Lectio includes a four-step process:
Lectio: to read the Scripture slowly, perhaps two or three times, paying attention to what lines in the Scripture you are drawn to
Meditatio: to ponder the Scripture by asking what God is saying and more specifically what God is saying to you
Oratio: to pray and talk to God about the Scripture
Contemplatio: to rest in your time with the Lord, which often includes moments of thanksgiving
Sonja shares that getting into a habit of praying with Scripture takes discipline and can sometimes feel like hard work. But it is important to keep showing up, because God will speak to us about our lives, our circumstances, and our relationships. And it will all be in black and white—in the words and on the pages of the Bible.
"[Lectio] begins the excavation of the wounds that we carry from the past, and it prepares us for the future. And it helps us be obedient. It's the thing that God uses to speak to us individually about our lives, our pains, our bad habits …" Sonja says.
After we've created a habit of praying with Scripture, then we can dive into Bible study. In fact, often our Lectio experience will lead us to what we want to study.
"Growing Closer to God with Scripture" encouraged me to work on this aspect of my relationship with God. It got me excited to experience a greater closeness with the Lord. Not only is Sonja knowledgeable about the topic, she is passionate about how Lectio Divina has transformed her life and how it can transform ours as well.
See more reviews of the Relationships series.
Copyright 2017 Sarah Damm
About the Author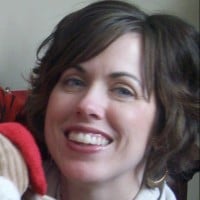 Sarah Damm is a Catholic wife and mother of six children, living in Minnesota. She spends her days running errands, helping with homework, and keeping up with laundry and the family schedule. Sarah loves her faith, coffee, and good books. You can find out more about her at SarahDamm.com.