This winter has been a weird one in our part of the East Coast--one big 16-inch snowstorm and nothing the rest of the winter. I found myself trying to figure out how to get dressed each morning. Do I wear a sweater today or a golf shirt? Do I wear a winter jacket or can I get away with a light fleece to wear for most of the day? I find myself journeying through the day and wondering . . . is this it? There has to be more to life than just surviving from one day to another. I need more outside the daily grind of life.
I need Easter badly. I need resurrection and hope. The longings within our soul are more than just craving warmer weather. We need to find life outside our current story. John Eldredge ("Wild at Heart") called the daily battles we wade through "our smaller stories." We must look to the Larger Story which is what God is REALLY doing behind the scenes. Yes, we know God exists but what is happening that we cannot see = a battle for hearts and hope.
[tweet "Behind the scenes, God engages in a battle for hearts and hope. By @JavaandJesus"]
Have you ever had one of those situations where you knew there was more going on than what you could see? I realized this truth a few times in my life but particularly when it pertains to very stressful situations. Obviously, it is more difficult to point this out in my own life but easier to see in others.
I wish I prayed over people more often. I think it is one of the most loving, caring, vulnerable, and spiritually scandalous things we can engage in for the Kingdom. If you read any of the Scriptures, people did not just pray. They prayed and laid their hands on people. Honestly, I remember more people's prayers who actually laid their hands on my shoulders than popcorn prayers from across the pew aisle. When we lay hands on people, it is being a vessel of hope, support, and light to that other person.
When I was in youth group, the church I was involved in used the altars a lot. I do not recall the times I prayed pathetic prayers that looked like I copied it from a Polly Pocket Diary. However, I do recall praying with people who were deeply hurt, needed healing, and my words were specific and spirit-led (not Jason-led). Spirit-led prayers are not a measurement of our holiness but of God's faithfulness and His promises to work when we cannot see Him.
People need resurrection in their lives . . . daily. We can look forward to Easter but the power of a resurrected God is available daily.
A lot of people are turned off from our feeble attempts at promoting religion. We treat Christianity as an event (get them to church/ignore their hurts) and not as something that can actually transform lives. To give people a sense of renewal, we must help them see the Larger Story. We need to guide people to looking past the current situation and seeing where God has been leading up to the current moment.
In order to help people experience light amidst their darkness, we must be open to experiencing a daily life of resurrection. Once we are transformed, we are better equipped to aide others in cutting away from conforming and experiencing authentic transformation to their whole self.
To experience true resurrection this Easter and beyond, try the following:
Pray specifically about where you need hope in your life.

Limit social media near Easter. Cute bunny pictures are nice but distracting.

Set realistic expectations for your holiday plans.

Feed yourself with reading and relationships. Transformation doesn't happen in isolation.

Spend time in nature. If you want to sense God then you need to put yourself in surroundings that remind you that the world is bigger than our everyday situations.
We live in a world at war. We will not all agree on everything and this will occur until the End of Time. But one thing is certain: people need hope. People need deliverance from their invisible weights that hold them down.
Will you be a person that is a symbol of resurrection and life?
Copyright 2017 Jason Weirich
About the Author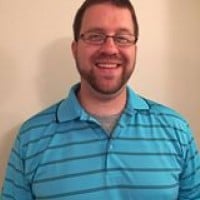 Jason is the founder of Java and Jesus. He loves Jesus, coffee, his wife & two children. He enjoys helping people experience freedom in Christ. Java and Jesus is a resource and not meant to be a replacement for the fellowship & community that one experiences in a church. Blogs, podcasts, & spiritual direction are a few of the resources that are offered by Java and Jesus.