If you are praying along with the Divine Mercy Novena, today is the day the church prays for the souls of our separated brethren:
"Today bring to Me the Souls of those who have separated themselves from My Church, and immerse them in the ocean of My mercy. During My bitter Passion they tore at My Body and Heart, that is, My Church. As they return to unity with the Church My wounds heal and in this way they alleviate My Passion."
This one is deeply personal for me. I grew up in a household full of converts to Catholicism, so of course, that meant I had a lot of relatives who were not Catholic. Most of those didn't understand the Catholic Church either. I heard stories of different family members trying to dissuade my grandparents from joining the Catholic Church. They expressed their concerns out of love for God and the truth as they understood it. My grandparents went through with their conversion, but I think they also appreciated the pain some felt at the new separation.
These were beloved aunts and uncles who could be counted on for support and assistance in times of trouble. They were the very definition of "family." They gathered together for celebrations, they could sing all the great old hymns loudly in perfect four-part harmony, and they were all prayerful people who knew and loved our Lord.
They just weren't Catholic. They taught us Bible stories, reminded us to say grace before meals, looked after the young children and honored our elderly. They just weren't Catholic. And when I was learning the Corporal Works of Mercy, it occurred to me that I had already seen them in action, because my extended family did all of those things. They just weren't Catholic.
We would gather for longer times together - family reunions, weddings, and funerals, spending time together laughing, crying, praying and playing and it would be wonderful. But on Sundays, we would go to the Catholic church and they would go to their church and that brief time of disunity and separation would just feel wrong and disjointed and it still does. All these decades later when most of the aunts and uncles are gone but my cousins and I remain separated in our faith.
[tweet "Praying the #DivineMercy #novena for unity; @mrsL focuses on what unites us in Jesus"]
Today I pray the novena for unity, but also in gratitude for the good examples my separated, Christian family members have given me in living their faith. And I pray that all of us can continue to find the things that unite us in Jesus.
Copyright 2017 Elena LaVictoire
About the Author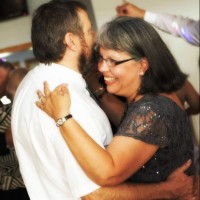 Elena LaVictoire is a graduate of Baker College and a retired medical transcriptionist. She is married and homeschooled six children. Elena is a public speaker on the topics of marriage, homeschooling, and confirmation preparation. She was also a contributing author to The Catholic Mom's Prayer Companion. Elena practices and performs with her flute and records with the Peace Together Choir. She blogs at MyDomesticChurch.com.