Cast all your cares on Him because He cares for you. -1 Peter 5:7
My younger daughter was confirmed last Wednesday night. Family came in from all over the country to help us celebrate the joyous occasion, and we took up a whole pew. In fact, since our parish is angled, the front pews are smaller than the back ones. Because of this, we wound up about five rows from the front. I was worried about being able to see my daughter receiving the Sacrament.
I was also worried about having a picture of the bishop administering the sacrament, as well. I have photographs of both girls being baptized. I have photographs of each of them receiving Christ in the Eucharist for the first time. And I have a photograph of my older daughter being confirmed by Bishop DiLorenzo, as well. So I got my mind set on having a picture of my younger daughter receiving the sacrament. And our seats weren't situated well for it. Not only that, but our parish did not have a photographer taking pictures of each child, either. (We did have one for our older daughter's class.)
To say I was becoming obsessed with getting this photograph is an understatement. I could not relax until a plan was in place to get a photo of The Moment. A friend from another parish was taking photos of their kids, so I had my poor, beleaguered husband go ask her to snap one of our girls, too, and email them to me. I kept eyeing the three rows in front of us, too. There were two women to my left, and then the rest of the row in front of us was empty. Then the next two rows were empty, as well. I actually could see the entire altar and the area in front of it where the kids would all be confirmed. I had serious doubts that those rows would remain empty, though. I was convinced I wasn't going to see it happen.
Now, this is silly, and I'll tell you why. My daughter was going to receive the sacrament and all the graces involved whether or not I could see it actually happening. I was going to remember the joy of the moment.
But I could. not. let. it. go.
I'm truly embarrassed at how obsessive I was being about this, even if I didn't let all of it out of my mouth.
Mass began, and, miraculously, the pews in front of us remained empty. People were packed in behind us and all over the rest of the church. Some people were standing in the narthex. And the pews stayed empty, all the way through the Mass.
Suddenly, it was time for the actual Confirmation to happen, and my husband leaned over and asked, "Do you have your phone out?" I was startled — I could see. I could take a picture! I grabbed my camera as the candidates made their way up, and when my daughter stepped forward with her sponsor, I held up my camera and snapped two pictures. This is the first:
And the next was a perfect shot of her shaking the bishop's hand afterwards.
I looked at the pictures on the phone to see how they turned out, and burst into tears. My silly obsession — my insistence that I just wanted a picture of her receiving every sacrament — nearly drove me to distraction. Wait, that's a lie. It did drive me to distraction. And yet God looked at me, felt pity, and gave me the chance to have the exact picture I wanted of that moment.
I'm so grateful for God's amazing gifts, even those that simply satisfy a crazy, obsessive desire that a stressed-out, Catholic-nerd mother who loves to have pictures of All the Sacraments! Thanks be to God!
[tweet "Surprised by God's generosity, even in the small things. By @CatholicMomVA"]
Have you had a small desire that God has met? How does God's generosity surprise you?
Copyright 2017 Christine Johnson
About the Author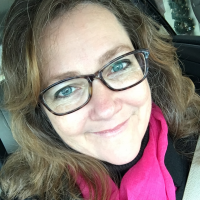 Christine Johnson has been married to Nathan since 1993 and is the mother of two homeschool graduates. She and Nathan live in the Blue Ridge Mountains of Southwest Virginia, where she tries to fit in as a transplanted Yank. She blogs at Domestic Vocation about her life as a wife, mother, and Lay Dominican.