My older daughter graduated from high school over Memorial Day weekend. We traveled to Front Royal, Virginia, to participate in the Seton Home Study School graduation ceremony and were blessed to have her grandparents there to celebrate with us, as well.
When I was searching for a graduation card for my daughter, though, I realized there simply wasn't a card that expressed what it meant to me to see her graduate from high school. I decided to write her a letter so I could express everything I felt about this momentous occasion. With her permission, I'm publishing it here.
[tweet "Greeting cards wouldn't do, so @CatholicMomVA wrote #graduation letter instead."]
---
Dear Kaitlyn,
Today is your Big Day. Today is the day when your name is called, and you walk across that stage to take your high school diploma in hand. I wanted to get you a card for today. I wanted to find the exact things written down that I wanted to tell you on your high school graduation day. But there are no cards for us.
There are no cards for me to give you because there are no cards that adequately tell you how proud I am of you. I'm proud of you because you've worked so very hard to graduate from a program with such high standards. You've worked hard on perfecting your writing, learning to study independently, learning to use your time more wisely, and learning about how to live your faith out there in the world. You've done all of this difficult work in spite of your ADD. There were times when I know you just wanted to give up because it was so hard, but you didn't. I know you'll say it's because I didn't let you, but part of it is because you're willing to work hard to get things done.
That lesson – how to work hard – shows up in other parts of your life. It showed up in spades with soccer this season! You went from being a bench-warmer who rarely got playing time to being a starting member of the varsity team. You went from a player who saw no playing time in the championship game two years ago to someone who played every minute of the championship game and was voted to the All-Tournament team! You learned to work hard in every area of life in your journey through school.
You've balanced school and soccer and work for the last year and a half, too. I'm proud of you for doing that because not every kid can manage it. Not every kid can keep grades up while working a part-time job, but you did it. You saved up for your own car, and you pay for your little luxuries (and necessities like insurance) all on your own. I'm extremely proud of you for doing all of this! Not many high school kids do what you do. But there's that lesson on hard work again, right? You've learned how to work for what you want, and I'm very proud of you for continuing to work so hard throughout your high school years.
But I think the biggest reason of all that I can't find the right card is because of how much we share in this graduation.
There are no cards that talk about how we worked together through long division and algebra and geometry. There are no cards that talk about reading literature together and working to find themes in great works like Tale of Two Cities and Pride and Prejudice. There are no cards that talk about how we went through every course together, sweating over papers and tests and quizzes. There are no cards that express the happiness that we felt as teacher and student – as mother and daughter – when the grades came back as good ones.
There are no cards that talk about how there were days when we both wanted to quit because we weren't sure we would make it. How I cried so much in your freshman year because I didn't know how we would get through it all. How I agonized over whether or not to go further in dealing with the ADD that plagued you and kept you from reaching your potential. How we both struggled with the idea that we should take an extra year to finish high school, or about how I cried with relief when I realized we were really going to finish.
There are no cards that talk about how this graduation is as much for me as it is for you. About the sleepless nights when I worried about whether or not I was giving you the education you deserved and needed. About the time I spent adjusting curriculum to meet your educational needs and style so that you would learn what you needed to in the way that suited you best.
In short, there are no cards for homeschooling moms.
So this is my card for you.
Here's to us! Here's to our hard work, our tears, and our fights about your schoolwork.
Here's to the times when we got an assignment back from the grader and groaned because it needed to be re-done. And here's to the many, many more times when we got an assignment back with a "Good job, Kaitlyn!" written on it.
Here's to the times when we put up lists of The Last Assignments each year, and crossed them off one by one.
Here's to the times when we dropped school to go on amazing vacations around the country, and we called them field trips.
Here's to the times when we read over the summer to make up some work because of those vacations.
Here's to the times we went to the park to do schoolwork outdoors.
Here's to the times when I read books aloud to you, and when we listened to Librivox together.
Here's to the times we laughed together and grew closer as we worked as a team over the last 13 years.
Here's to the days we took schoolwork on errands and talked about history in the car as we did the grocery shopping.
Here's to us, Kaitlyn. You and me, baby girl. We did it.
We did this. I'm so proud of you, and I love you very much.
Congratulations!
Love,
Mom
Copyright 2017 Christine Johnson
About the Author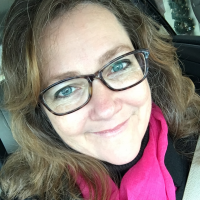 Christine Johnson has been married to Nathan since 1993 and is the mother of two homeschool graduates. She and Nathan live in the Blue Ridge Mountains of Southwest Virginia, where she tries to fit in as a transplanted Yank. She blogs at Domestic Vocation about her life as a wife, mother, and Lay Dominican.