When I was a little girl, I loved the mail. I heard the mail truck, with its distinct clunky noises, much sooner than I saw it, and when it finally came into view, I waited by the window until the mailman drove to our mailbox to deliver the mail. Then, I rushed out the front door to collect it.
I am not sure what it was about the mail that I loved. Most days, it was nothing but bills and flyers. I think it was the hope that something more would be in the mailbox. A letter from my cousin. A card from Grandma. A catalog filled with toys.
Today, my past love of getting the mail has formed a daily habit of opening and sorting the mail as soon as it comes into the house. But at the sound of the truck coming down the street, I don't rush out to get it anymore. I have passed that enthusiasm on to my daughter, who loves to get the mail just like I did when I was a girl. Most days are not good mail days, but on the special occasion when it is, it really makes me smile.
Last week, I had a good mail day when a small box arrived among the bills and flyers. The box was from Catholic T-shirt Club, a monthly subscription box that I am excited to share with CatholicMom.com readers.
According to the website, "Catholic T-Shirt Club is for those who want to experience their faith in a deeper way. We create Catholic themed T-shirts each month, paired with powerful sacramentals to bring an experience of spiritual growth or healing to those who receive it."
Within each box is a Catholic T-shirt based on a monthly theme. Past themes have included the Sacred Heart, St. Therese, the Triduum, and Divine Mercy. In addition to the T-shirt, other items are included, based on the subscription level.
The subscription levels give subscribers an opportunity to order a box based on their individual needs and budget. For example, the priest box includes a T-shirt only, while the bishop box also includes four to six sacramentals such as rosaries, holy cards, and medals. The cardinal box includes two of everything and is perfect for couples or friends. With the additional items, the price of the box increases.
The subscription is reoccurring, so subscribers will be billed automatically each month. One-time boxes are not available at this time, but subscriptions can be canceled anytime.
I received the bishop box in the current month's theme of St. Padre Pio. It included a brown T-shirt with his famous quote, "Pray, hope, and don't worry." The T-shirt is soft, the sizes are unisex, and the design is well done.
In addition to the T-shirt, the box included a vial of scented anointing oil with a small card that explained its purpose. "For generations in Italy, people used oil as a guide to prayer and a meditative aid in praying to the saints for their intercession and their petitions to be answered." A simple way to use the oil is make the Sign of the Cross on the forehead or on another part of the body that needs healing.
The box also included a St. Padre Pio holy card with a third-class relic and a medal. These are wonderful items to help us remember the powerful intercession of this holy man.
The sacramentals do not arrive blessed, and therefore, it is important for subscribers to ask their parish priest to bless them.
All of these items included in the subscription box are thoughtful and useful, and it is obvious that the themes are well planned. The one criticism would be that the box didn't include four to six sacramentals as the website promises. It included three. Perhaps this is determined based on the value of the sacramental, but that should be reflected on the website.
In addition to the adult subscription boxes, the Catholic T-shirt Club also offers a children's box that includes the monthly T-shirt, a sacramental, and a craft. You can see a review of the children's box here.
[tweet "Mail that will make you smile: @sarahcdamm reviews @CatholicTeeClub subscription box"]
Catholic T-shirt Club is a wonderful subscription box for Catholics. It gives us a chance to share our faith by wearing our Catholic T-shirt around town. It also invites us to go deeper in our faith by learning about a saint or a particular tenant of our faith each month. The sacramentals encourage us to make time for prayer each day, so we may grow closer to the Lord. And with each subscription box, a portion funds efforts to end poverty in the U.S., through their partnership with Catholic Charities Fort Worth. A subscription to Catholic T-shirt Club also makes a great gift for birthdays, Christmas, graduation, First Communion, or Confirmation.
Learn more about Catholic T-shirt Club.
Copyright 2017 Sarah Damm
About the Author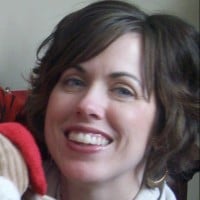 Sarah Damm is a Catholic wife and mother of six children, living in Minnesota. She spends her days running errands, helping with homework, and keeping up with laundry and the family schedule. Sarah loves her faith, coffee, and good books. You can find out more about her at SarahDamm.com.