"In addition to all this, take up the shield of faith, with which you can extinguish all the flaming arrows of the evil one." (Ephesians 6:16)
This Bible verse is not the first thought we have when contemplating faith and how it sustains us in the Journey. Our first impressions of faith often involve comfortably-selected pieces of Christianity; we continue to plow through life with faith as a nice quote we hang on our home's interior. We begin to view faith as the end of a Disney movie; everything is perfect.
We often are searching for happiness and meaning in everywhere but where we should look. The end result is we dance around in circles of frustration with ourselves and everyone else because our focus is blurred. Our human eyes don't have perfect vision in a time where social media is a basic tool of "how things should be."
A few years ago during Lent, I gave up Facebook and social media. A different Lenten season, I gave up text messaging. Another Lenten season, I cleaned house of my Facebook and kept it to just people who I actually talked to in real life. Our lives have revolved around social media so significantly that many people take offense if we change our routines. "Holy disruption" is the only term fitting for what happens when we lift our shield of faith and prepare to live a life that doesn't make sense to others.
[tweet "The challenge of holy disruption: living our faith in the world. By @JavaAndJesus"]
One of my friends challenged me a few years ago. His challenge was simply this: engage the faithless or former faithful (burned-out believers) on social media. I assumed that this friend was joking because I know many people who consistently engage in faith and culture debates on social media. I envisioned World War 3 taking place on my Facebook wall once I started posting "controversial" things. In all honesty, I didn't post anything controversial. Instead, I encouraged fellow Christians to step up and also opened the door for the faithless and burned out followers to engage in a conversation. The results were surprising. . . .
My faith-based posts showed me that people want to engage in faith based conversations; however, we need to provide the platform for this to occur. Let's be clear; people are spiritually hungry and they don't want another debate. People want conversations. People want to be heard and they want to journey with others. In our "I do want I want when I want" independently-focused culture, do you personally know many people who are doing well completely alone? No, because people need connection. And here is where the arrows are shot at you and me. . . .
Flaming arrows of the Evil One?
If we are going to get honest about the arrows that are shot at us by the Evil One, let's look at the Scripture again:
"In addition to all this, take up the shield of faith, with which you can extinguish all the flaming arrows of the evil one."
We need faith because the Evil One will be shooting arrows--especially where we do not expect it. At your job, the Evil One can have a field day with a bunch of disgruntled workers. In the Church, (yes, even the Church) the Evil One can attack us when we are so focused on doing ministry that we forget we need ministered to as well by Jesus and others. In the home, we need to put up a shield because the Enemy loves to have families focused on trivial things instead of the Gospel.
What arrows can be blocked by the shield of faith? ALL of them. The Scripture does not say that God picks which arrows He will block. We can block them all and we must know where they are aimed: our heart. If you take out someone's heart, you take out all of them. The Evil One delights in a half-hearted person. No one tries to live a half-hearted life; however, it is easy to do this when we keep ducking arrows aimed right at us.
Some examples of taking up your shield of faith and addressing the arrows:
Pray for yourself. You are no good to others if you do not pray for your own heart and soul.

Pray for your witness. Like the old Sunday School lessons say: Jesus is watching you. However, others are watching you too.

Pray for your family. The Evil One LOVES to take out the family unit.

Pray for your dreams and desires.

Pray for your failures. The Evil One likes to use this as fuel for keeping you down.
Grab your shield and be ready. The arrows will come but Jesus is already here. Have faith in the new who can make all things new.
Copyright 2017 Jason Weirich
About the Author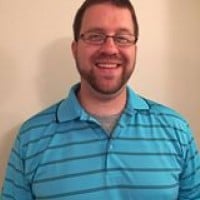 Jason is the founder of Java and Jesus. He loves Jesus, coffee, his wife & two children. He enjoys helping people experience freedom in Christ. Java and Jesus is a resource and not meant to be a replacement for the fellowship & community that one experiences in a church. Blogs, podcasts, & spiritual direction are a few of the resources that are offered by Java and Jesus.