Mothering is hard.
We carry our children and feed them. We dress them and we bathe them. We kiss a million boo-boos, and when they're older, patch up broken hearts. The passage of time finds us shifting: one day we're wrapped up in toddler potties and preschool choices. The next, we're discerning modest fashion, social media, and the like.
While our children will take responsibility for their own direction, we are the wall they come home to for direction and advice. How do we know the way to guide them? How do we discern what God wants for their lives?
Simple.
We call in reinforcements.
[tweet "How to discern what God wants for our children? Call in reinforcements. By @ginny_kochis"]
3 Fruitful Steps for a Mother's Discernment
Rely on Your Posse
If it truly takes a village to raise a child right, look no further than the wisdom and intercession of the saints. My friend Allison calls it her posse, a cadre of eight holy men and women who have her proverbial back. I'm convinced every mother should adopt her own posse as a powerful example, intercessor, and guide. St. Gianna, St. Monica, and St. Zelie Martin are particularly good ones, but any saint to which you have a devotion is fine.
Seek a Second Opinion
Parental decisions require discussion. You need a sounding board aside from the voices in your head. Talk to your spouse, your pastor, or a trusted advisor. Confide in and pray with an individual who shares your values and God's will for your decision will be clearer in the end.
Remember the Five Keys, courtesy of Catholic philosopher Dr. Peter Kreeft
Consider What You Know
How well do we know our children? Do they struggle with certain issues? Are there certain places where they shine? Starting with the facts about the young people we've been entrusted gives a firm foundation for any options we decide.
Love God First; Love God Completely
To explain this point, Kreeft refers to the passage in John where Jesus tasks the Pharisees in their devotion to his Father. If you truly loved God with all your heart, Jesus tells them, you would understand my teachings for sure. Kreeft's interpretation is simple: when our hearts are rightly ordered, God's will should appear more easily before our eyes. We will understand our role and decisions as our children's mothers when we rest in love of God.
Be Compassionate, But Firm
When discerning the paths we will take for our children, we must be empathetic to the strength of their concerns. They are people with aspirations and emotions; our decisions should reflect consideration of those desires. But Kreeft makes it clear that we are not to be pushed over. We cannot allow emotion to dictate what we decide. It's best to face discernment with a heart like God the Father: He wants us to be happy, but knows what is best for us in the long run.
Recognize that all of God's signs should (and will) line up
Kreeft describes this as "a kind of trigonometry," in which the messages we glean from Scripture, reason, church teaching, circumstance, conscience, instinct, and prayer align. When we receive the same sense of direction from each of these seven resources, we can surmise our course is right.
Seek love, joy, and peace
"Discernment itself should not be a stiff, brittle, anxious thing," Kreeft writes, and the truth is that he's right. Once we know we have made an appropriate decision, we'll be at peace with the acceptance of the decisions we make for our children's lives.
Discernment isn't easy. God doesn't often give us neon signs. Fortunately, though, he provides us with grace and resources.
Let's all pray that we may listen and be open to his heavenly advice.
How do you discern the correct path for your children? Do you struggle with the process?
Copyright 2017 Ginny Kochis
About the Author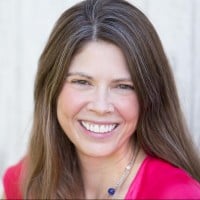 Ginny Kochis is a Catholic wife and homeschooling mom to three differently-wired children. She founded the Not So Formulaic community to support Catholic moms raising out-of-the-box kids. Ginny believes God gives curious, creative, intense children the exact mother they need to thrive.