When I was a young girl we were fortunate to have a wonderful retreat house located in Waverly, Nebraska called Our Lady of Good Counsel Retreat House. We would go once a year on a retreat which allowed us the opportunity to get away from jobs, families and responsibilities and reconnect ourselves in prayer. It's interesting to think back on this time in my life and how essential it became for a few of my friends and me. It was a great opportunity to renew and strengthen our faith and develop great prayer habits. We started doing this as a requirement at our Catholic high school when we were seniors, and it led to our wanting to continue attending retreats while in college and years later.
I'm so pleased I continued that annual drive to Waverly, Nebraska for those retreats. I have very positive memories of the times I experienced there. Maybe I was influenced a little by my dad because I knew it meant something to him when he would sign up for a retreat once a year with the Knights of Columbus. He seemed to thoroughly appreciate them. He was a convert to Catholicism and certain things held special meaning for him, like singing in the choir and going to Mass on Sundays. He didn't do it because my mother, a devout Catholic, made him. He clearly did this on his own.
At one of the retreats I attended, the priest guided us to try and find seven times a day to make a connection with God in prayer. He suggested as an example, 6 AM as the first prayer time of the day, followed by reciting the Lord's Prayer at 9 AM. Then at noon he recommended we say the 23rd psalm. At 3 PM, he suggested we begin the Rosary. At 5 PM, we should complete the Rosary. Before dinner (at 6 PM) we were instructed to say a prayer of thanksgiving for our meal, followed by the prayer "Make me an Instrument of thy Peace" at 9 PM. Basically the idea here was to knowingly find times during the day for prayer. I read somewhere that one woman said she had prayed constantly throughout her day, beginning with making breakfast for her children, folding clothes, making sack lunches, and going to the grocery store. Essentially, every time she began a task she would find the time for a prayer.
With all the challenges we all face every day, prayer is such a gift to give yourself. It clearly brings a calming spirit to your day. You might be asking yourself, what possible good could any of this do?
[tweet "What possible good can it do to make time in our day for prayer?"]
I would like to share one example about the good prayer brought to my family. It's a story about a special car we purchased from the Sisters of St Mary's in Oregon several years ago. My husband, Jack, volunteered in the lunchroom to help lower the cost of my daughter's tuition. When she was old enough to drive, we purchased a car from the Sisters for $500. One year later that car was in an accident and, of course, totaled. The blessing came when my daughter walked away unharmed with little harm to the other vehicle. We said a prayer of thanksgiving for that blessing.
The Sisters sold us another car six months later. It was a small Toyota. My daughter drove it through her college years and her first year working at a full-time job. We lovingly referred to her car as the "Nun Car." My daughter learned that every time the Sisters drove their cars, they began and ended their drive with prayers!
When my daughter bought her first new car after getting her first job we gave the car to my son. He used it as a back-up car for his daily drive to work at the hospital for many years. One day he was driving to work and began experiencing chest pain, followed by a devastating heart attack.
He was able to pull over to the side of the road before slipping out of consciousness. Fortunately, someone stopped immediately and gave him mouth-to-mouth resuscitation. He was taken in an ambulance to the hospital and lay in a coma for a week following surgery on his heart. This was eight years ago. It was a true blessing he survived this.
We explained to the nurses and doctors when he woke up from his coma it was due to his driving the "Nun Car" that allowed him to miraculously pull through. Remember, this was the same car that held those special prayers said daily by the Sisters. We attributed those prayers to saving his life. We heard the nurses talking among themselves about the "Nun Car" as we were leaving the hospital to take him home. We overheard one comment from one of them that made us smile; she said, "Isn't the power of prayer amazing?"
Prayer time truly is care time! Whether it be attending Mass or saying a Rosary or thanking God for your meals -- or trying to save someone's life -- your prayer time lets you connect with God and renew your love for all the gifts we are given from Him.
"Whatever you ask in prayer with faith you will receive." (Matthew 21:22)
---
Copyright 2017 Catherine Mendenhall-Baugh
About the Author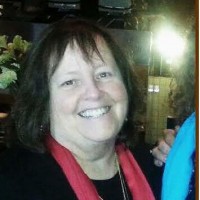 Catherine Mendenhall-Baugh (Cathy) completed her education in Special Education and English and now works as an Agent in the Insurance Industry. A mother and Grandmother, Cathy grew up in a large Catholic family and has spent the last 30 years as a caregiver for her husband, Jack. She is a cancer survivor which inspired her to begin writing six years ago.