One is a knit monkey, one a classic teddy and the other a puppet, of the female gender, with black yarn for hair. These "stuffties," as we refer to them in our house, were best friends to our two sons and daughter. Teddy was given to our oldest, TJ, for his first birthday. It was a few years however, before their friendship developed. They were mere acquaintances for quite some time, while TJ stubbornly held on to his pacifiers as his go-to item for comfort. After the pacifier fairy made a stop at our house to pick up all his binkies for the new babies, TJ then searched for a replacement and, before long, he and teddy were best of friends.
I can vividly remember my husband's reaction when I came home with Monkey. He was certain Noah, our middle child, wouldn't care for him, but I couldn't very well return him. Seriously, we all know stuffies have feelings. They last thing I was going to do was crush his little knit heart while he just smiled at me, looking all cute and cuddly. Thankfully, my husband's fears were unfounded and, come Christmas morning, Noah happily met his childhood soul mate.
We struggled for quite some time to encourage, (ok, force) a connection between Mary-Rose, our youngest, and one of her baby dolls. Her sleep patterns were leaving us weary and stressed and we were desperate for one of the stuffed residents in her room to take over for us. These types of friendships can't be coerced however, and only mean something when they develop on their own. Try as we might, for several years Mary didn't care much about any of the dolls we left sleeping next to her in her crib. Wouldn't you know it, the last doll we would have ever chosen has become number one in her heart.
When TJ and Noah were young, there was no adventure too big for Monkey and Teddy. They ran a restaurant in our family room, opened a "fur" salon in the boys bedroom, ran cooking shows in the kitchen, starred in several movies, shook a tail at numerous dance parties and never failed to get into lots of trouble when we weren't home. Monkey even went to work with Dad one day and kept in touch by sending us email updates, one with an attachment of a photocopied picture of his backside (ahem . . .).
Perhaps our favorite memory with Monkey and Teddy involves some classic video footage we were able to capture of our unsuspecting friends. Before leaving for Mass one Sunday, we set up the video camera in the playroom and brought Teddy, Monkey and a few other stuffed buddies into the room and left them on the floor. TJ and Noah were astounded to come home and find video of their furry friends climbing the tripod to get to the camera and see what this strange thing was all about. It was just a few months ago that we were able to find the "lost" tape and replay it for them. This time around they noticed the strings that we had tied to the feet of the stuffed animals in order to pull them around the room and make them come alive.
I love the beauty of a child's heart and envy how easy it is for a child to love, to believe and make their world come alive. Now TJ and Noah enjoy watching their little sister with "Baby," her own stuffed buddy.
I remember asking TJ one time to divulge the wish he had made before casting a coin into one of his favorite fountains. He made several wishes and would always refuse to tell me what he hoped this funny little past time would award him. When he was older, and the whole idea of wishes had somewhat lost their magic, he finally told me that for all those years he tossed his coins in, he wished his heart out that Teddy would come alive to him, if even for a few minutes.
At the time, I remember feeling so saddened that, for so many years, this sweet little trusting man of mine wondered why his wish was not coming true. I always worked so hard at making their favorite friends come alive in the ways that I humanly could. I'm so grateful that there is one person who has not one human limitation and loves them enough to make magic in their lives.
[tweet "Letter from a mom encouraging her children to look to Jesus for unmatchable comfort."]
To my children,

When you reach an age that you find it difficult for Teddy, Monkey and Baby to protect you from all the boogie monsters in this world, to make any boo boo feel better, to share all your secrets, hopes and dreams with and you think it may be time to carefully place Teddy, Monkey and Baby in storage, I'm happy to tell you there is someone you can turn to that will take over caring for you as your stuffties always did.

This person is more than capable of fighting off any of the monsters in this world, will work tirelessly to protect you from pain and will stay close by your side when you are faced with difficult times. While He may not technically be stuffed, you will find unmatchable comfort in Him. He will be in the hugs of me and your Dad, hidden in your friendships and will be available to you day and night. Much like you were never able to see your stuffties come alive, you won't necessarily be able to see this friend in the physical sense. But if you believe in Him, He will be visible in all areas of your life.

You can talk to this friend just like you always did with your stuffties. And if you need to tell Him something you'd rather not share with me or Dad, He'll listen, He'll answer and He will keep it all between you and Him. He's trustworthy, dependable and selfless in His love. There will be times in your life that you might try to be confident and secure in your own right and try to politely store this friend away. The great thing is however, no matter how many times you sit Him on the shelf and close the closet door, He will always be waiting for you with open arms when you are ready to take Him down again. And perhaps the best part? You won't have to throw any coins to wish Him into being and, with this friendship, we assure you, there are no strings attached.

Love, Mom
---
Copyright 2017 Nicole Johnson
About the Author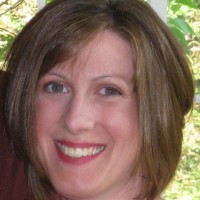 Nicole and her husband have been blessed with three children. Nicole markets the mission of a non-profit that provides early therapies for children diagnosed with developmental delays. She and her husband serve on the board for the New England chapter of Bethany Christian Services, a national adoption agency. Nicole's family advocates for life, adoption, and embracing children with special needs. Visit her blog at Joy in the Journey.