Yesterday, I shared with you my experience of being invited to pre-screen and conduct interviews for the horror film ANNABELLE: CREATION, which opens nationwide tomorrow, August 11. Today, I'd like to dwell a bit on why I truly enjoyed this film, and why it still has me thinking about this story and its characters.
Synopsis:
Several years after the tragic death of their little girl, a dollmaker and his wife welcome a nun and several girls from a shuttered orphanage into their home, soon becoming the target of the dollmaker's possessed creation, Annabelle.
Trailer:
https://youtu.be/EjZkJa6Z-SY
My Take:
For a variety of reasons, I was surprised by how much I actually enjoyed this latest installment in The Conjuring film series. I am not normally a fan of this genre. So as I explained yesterday, I put some definite thought and discernment into whether or not to see this film. In the end, I am glad I did. The experience has provided some great fodder for personal introspection and conversation in our home.
Let's talk first about the elephant in the room and let me say up front that this is NOT a film for kids. It earns its R rating for horror, violence, and terror. While I have yet to see a review from Catholic News Service, my guess is that CNS reviewers would call this an L (Limited adult audience). For this reason, I was shocked and appalled by the number of parents who brought young children into the screening I attended. The film is scary both in terms of its use of "jump scare" tactics and even more so in its premise that the devil has taken over not only a home, but also bodies of people in that home. This is not for kids. And even if you're a grown up, I'd advise that if you have any spooky looking dolls around your house, you put those squarely out of eyeshot before you leave for the theater so you don't have to confront them when you come home in the dark.
This warning aside, let me tell you a few of the reasons I enjoyed this film. Again, I've not seen the original ANNABELLE, but it was easy for me to immediate relate to the love of parents Esther and Samuel Mullins (compellingly portrayed by Miranda Otto and Anthony LaPaglia) for their only daughter Bee (adorable in early flashbacks and played quite creepily in her post-dead-but-definitely-not-at-rest state by Samara Lee). We bond quickly with this family, then tangibly feel their grief when Bee is killed in a terrible car accident. This particular scene points to something surprising that I noticed about this film.
At several points in the film when things could have been far more visibly grisly, we viewers think we witness the worst. But the directorial choices of David F. Sandberg normally don't go for the cheap blood, guts and gory easy-way-out tactics. Sandberg instead tends to lead us to the edge of what most frightens us often simply with lighting choices, cinematography and use of a score by Benjamin Wallfisch that builds the creepiness factor exponentially. During the junket I had a chance to jokingly deride Sandberg for ruining one of my favorite songs, You Are My Sunshine, which hauntingly plays on the Victrola at several very frightening moments in ANNABELLE: CREATION.
Most notably, Sandberg seems able to coax from his actors performances that terrorize. For me, is was the humans and their choices and behaviors that most impacted me, not the demon-possessed doll Annabelle or the (effectively employed) visual effects by Shade VFX. Miranda Otto's shadowy presence as a permanently-bedridden mom, awash in grief, broke my heart even though we rarely saw her full face or body. Anthony LaPaglia was downright menacing as the husband who opens his home to a Catholic nun and her ragtag group of orphans in an effort to help his wife heal. What this couple hopes will be their "penance" for choosing to invite evil into their homes turns out to be only a continuation of the cycle of pain. LaPaglia told me in our interview that he intentionally kept his distance from the young actors with whom he shared scenes when they were all off set. This seems to have been a wise choice, as he intimidated not only those young newly-arrived wards, but this moviegoer as well.
Hands down, for me the best part of ANNABELLE: CREATION were the performances turned in by two of its youngest cast members. Talitha Bateman's Janice both won and broke my heart in her before and after possession scenes. One moment when Janice is "stuck" on an old staircase lift chair still gives me shivers when I remember it. Bateman's co-star Lulu Wilson may initially seem an unlikely heroine, but this bright-eyed young professional rose in every way to the demands of her character. Off camera in our interviews, both Bateman and Wilson showed their conviction for empowering young girls with their work. I'd say both succeed with that goal in ANNABELLE: CREATION.
One particular portrayal was both wonderful and a bit problematic for me. I fell in love with Stephanie Sigman's Sister Charlotte, the glue that binds the "family" of girl orphans together as they move into their new home with the Mullins. Charlotte's moment of interaction with the devil (having found its host body in Janice/Bateman) was a spiritual highpoint in the story for me. Sigman recounted this scene for me in our interview, reciting the Padre Nuestro as we sat together and fondly speaking of her grandmother as a source of spiritual inspiration. Sister Charlotte's gut takes her immediately to prayer when she confronts evil, and that moment felt incredibly real to someone who would (and has, albeit in far less scary moments) do the same thing. But Sister Charlotte is also one of the characters that fell flat for me when her character could have been strengthened with a few tiny changes. Charlotte clearly has a backstory, but we don't hear much of what led this gorgeous (inside and out) nun to take up the habit. There is a hint at something deeper (and possibly another "prequel" for the series) if you pay attention. But we don't get as much of Sister's story as I'd have liked. Additionally, for a film set in the mid-1940's, ANNABELLE: CREATION gives us a nun's depiction that feels too modern. Such care was taken to give us an authentically historic set (exteriors of the farmhouse were primarily shot on location at Big Sky Ranch in Simi Valley) and even a 1937 Airstream bus. Why didn't someone do better research on Sister's habit or the way she would have related to a priest in those days?
This nit-picking aside, even two weeks later, I find myself anxious to not only watch ANNABELLE: CREATION again with my husband (and I'll know when to cover my eyes this time), but also to check out the rest of the CONJURING series. I recommend this film for anyone interested in horror, but also for those drama fans courageous enough to try something new. There is a story worth exploring here, choices worth examining, and conversations worth having.
Just watch out for that creepy Annabelle doll.
And say a prayer to St. Michael the Archangel before you step into the theater.
Copyright 2017 Lisa M. Hendey
Image credits Warner Bros and Lisa M. Hendey, all rights reserved
About the Author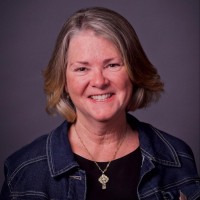 Lisa M. Hendey is the founder of CatholicMom.com, a bestselling author and an international speaker. A frequent radio and television guest, Hendey travels internationally giving workshops on faith, family, and communications. Visit Lisa at LisaHendey.com or on social media @LisaHendey for information on her speaking schedule or to invite her to visit your group, parish, school or organization. Visit Lisa's author page on Amazon.com.